Fun & Cheap Paper Game Ideas to Play with Your Kids
Since our kids are born into the age of technology, they have become glued to their gadgets. While they entertain, technology can be a distraction or suppressor of thoughts. As parents, we can set up simple entertainment that can keep them away from the glowing screens of technology. It is time to explore fun paper game ideas for kids that will make them forget that these gadgets existed…even for a little while. Paper games allow for more creativity contrary to the stream of information and data they get from glowing screen gadgets. Paper games are also inexpensive – almost free – and so very versatile.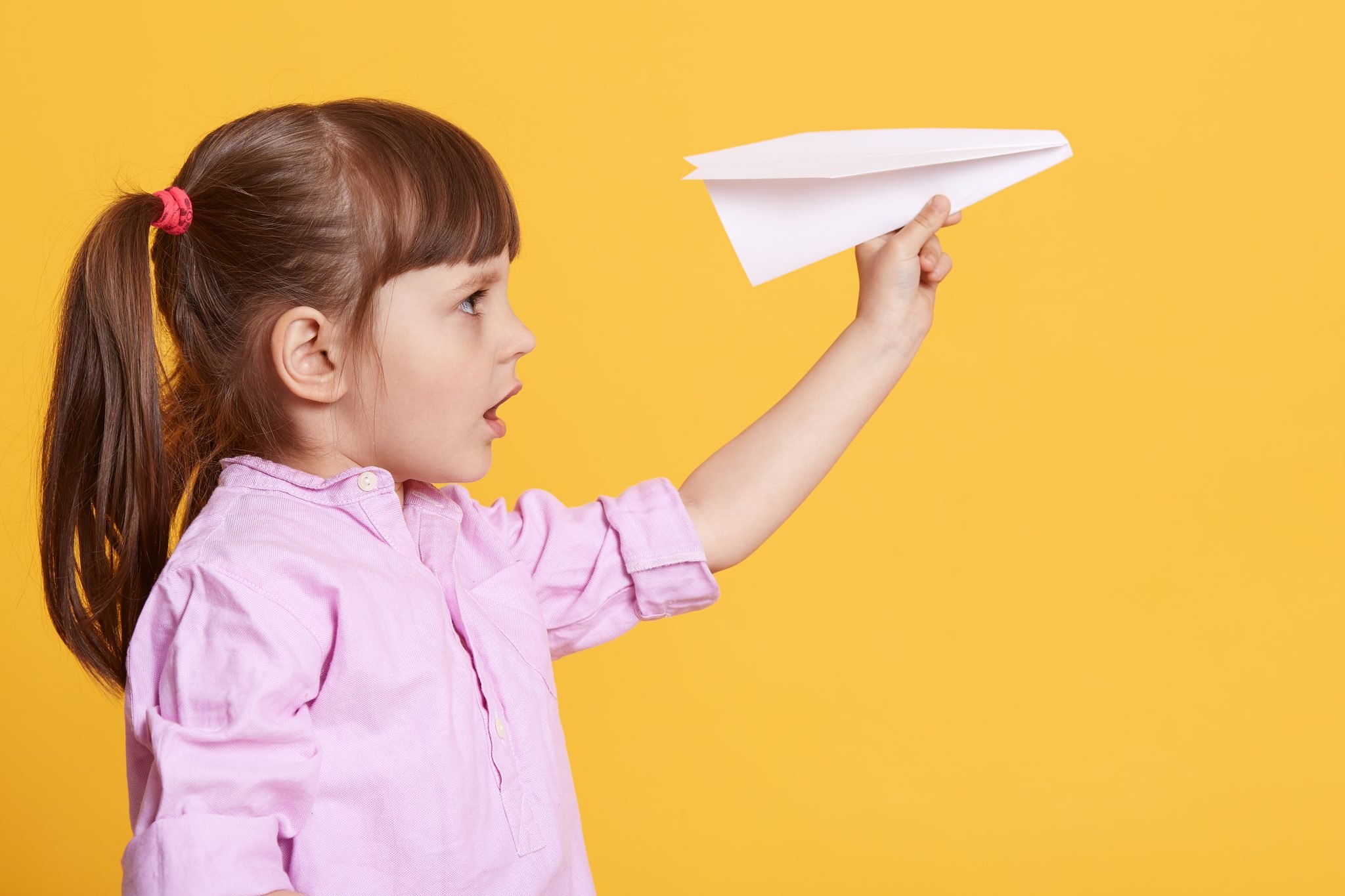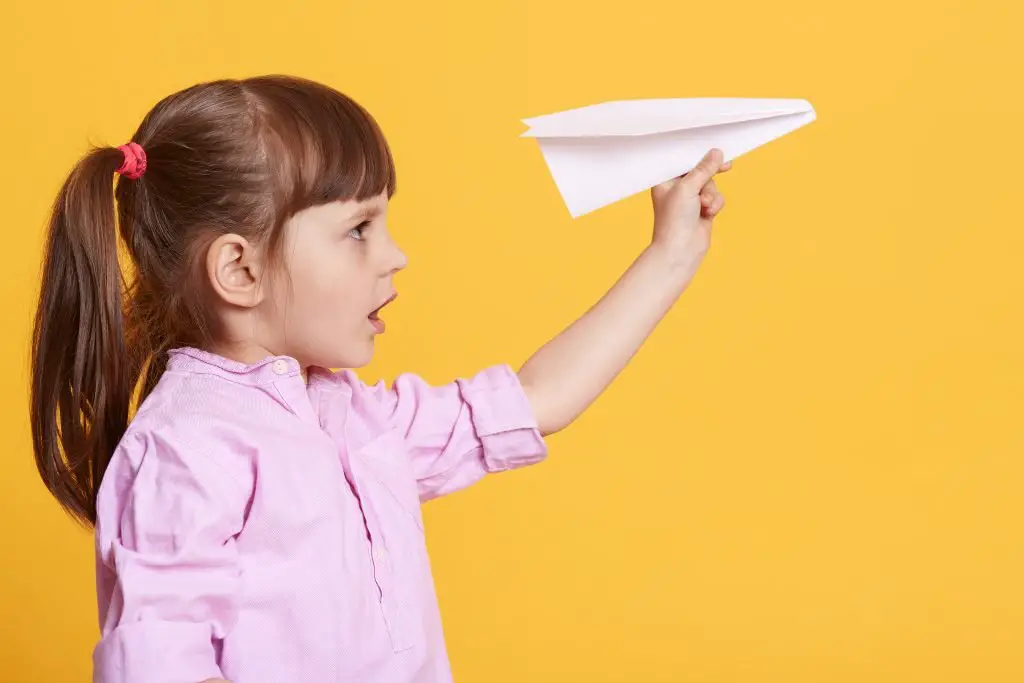 🏎️ Related Reads:
Are you new here?
Why not check out our collection of free coloring pages for kids! We update our resources library regularly so feel free to check back as we add more and more content. We're currently at over 1000+ coloring pages and creating more how-to-draw stuff art tutorials!
Pencil and Paper Game Ideas for Kids to Play
Who said that fun games are only for running and jumping activities? Your kids can still have all the fun in the world with paper games! Check these three cool paper games that you can play at home or on the go:
1. Sim Pencil Game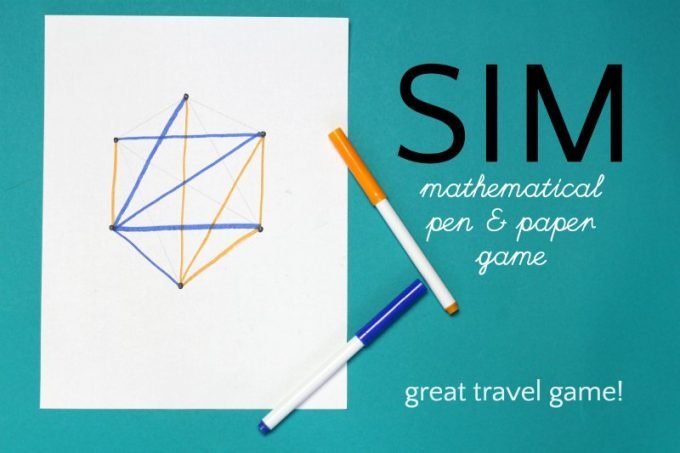 Ready for something mathematical with your kiddos? The Sim Pencil Game is what you need! Just a quick Did You Know: Gustavus Simmons invented this brainteasing game in 1969. The Sim pencil game is not only a fun pen and paper game; it is a funtastic, thinking game with the twist of mathematics and geometry. This game requires two players. Start by placing six points on your paper. Make sure to arrange the dots in a hexagonal arrangement. Each player will take a turn in drawing a line from Point 1 to Point 2. The goal of this game is simple: do NOT form a triangle. The player who creates a triangle loses. Quite simple, right?
2. Hangman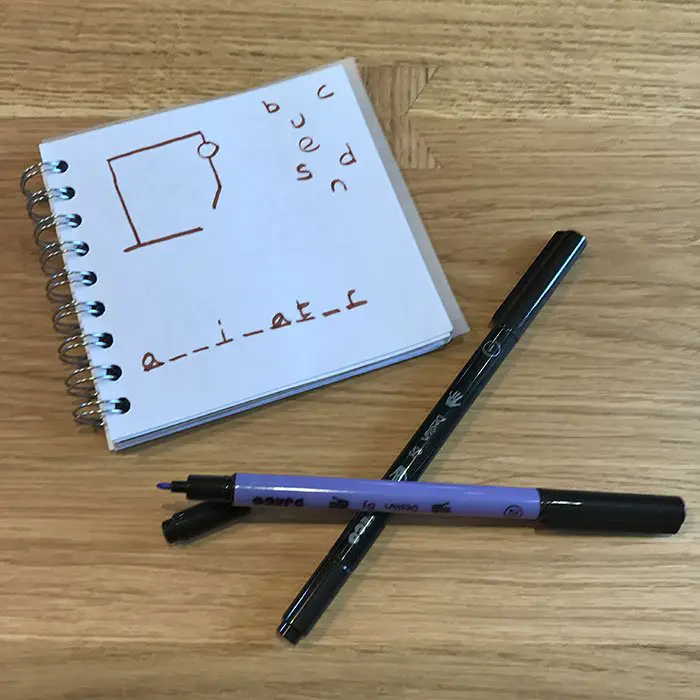 Of course, Hangman will be on my list. This is a classic letter guessing game that your 5-year old and above kids will enjoy. Hangman will also test your kids' vocabulary as they work with words. So grab your blank paper and pencil, pick a word, assign the blank letters, and let your children guess each blank letter. Just do not forget to draw one line of the stickman for every wrong letter. Your kids will have fun and learn at the same time.
🏎️ RELATED READS:
3. Squiggle Game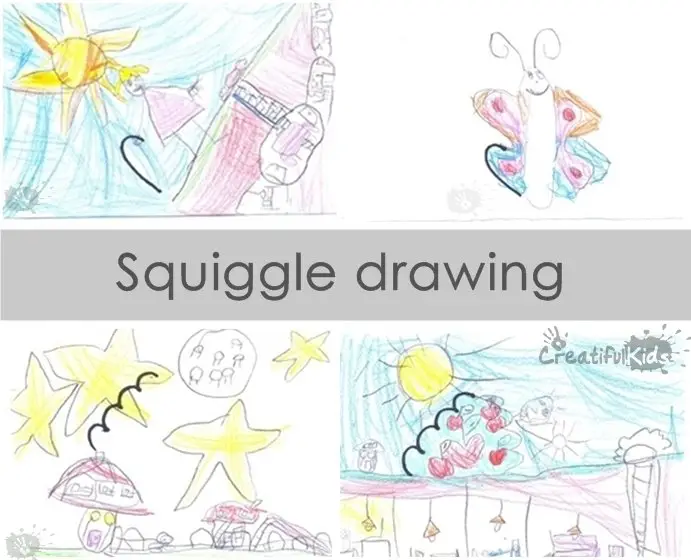 Unleash the creativity of your kid with a Squiggle game. On a blank sheet of paper, draw a random line—straight, curvy, looping, short, or long—the choice is yours. Show it to your kids and let them transform it into a picture. With this creative and fun drawing game, you are helping them imagine and think out-of-the-box.
🖍️ MORE HOW TO DRAW TUTORIALS…
DIY: How to Make Cool Paper Crafts For Kids
You and your kids will love these DIY paper crafts! They are fun and easy to make using random items around your house, and these activities will keep your kids busy.
4. Origami Fortune Teller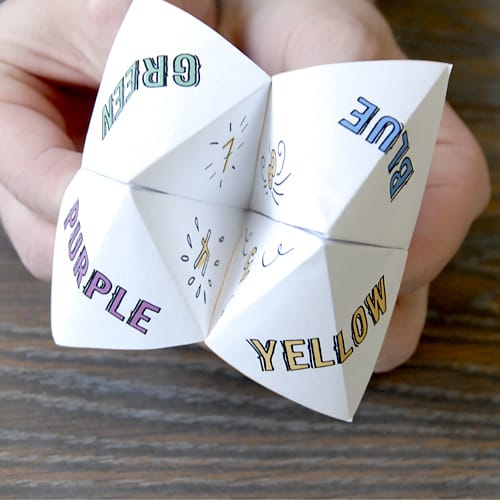 Are your children bored from the long hour drive? Can't decide which TV show or movie to watch with your kids? What if I tell you that a paper game can save you and your kids from boredom and indecisiveness? This paper fortune teller game or Cootie Catch can keep our children busy and provide answers to parents like us. We can also teach our kids about shapes, colors, numbers, foreign language vocabulary, and sight words or entertain them when they are bored. The possibilities are endless with this fortune teller paper game, and it is also easy to make! You will only need paper, a pencil or marker, and scissors. If you forgot how to create a cootie catch, check these step-by-step instructions and make on with your kids. They will love this!
🖍️ MORE HOW TO DRAW TUTORIALS:
5. Paper Dice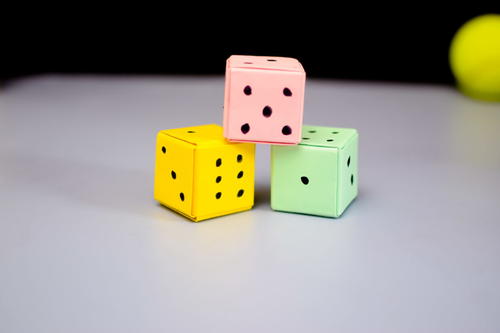 Why should you make dice when you can buy them in stores? You know how fulfilling it is to create an item. So imagine what your children will feel after making paper dice that they can use on one of their board games. Do-It-Yourself (DIY) paper dice is easy to make! Look for dice patterns online, pick the most sturdy paper you have inside your craft box, draw six squares, then cut. After, test the dice by rolling it out several times. Watch out for bias—it might mean that you need to recreate the dice.   
🏎️ RELATED READS:
6. Paper Cup Pom Pom Shooter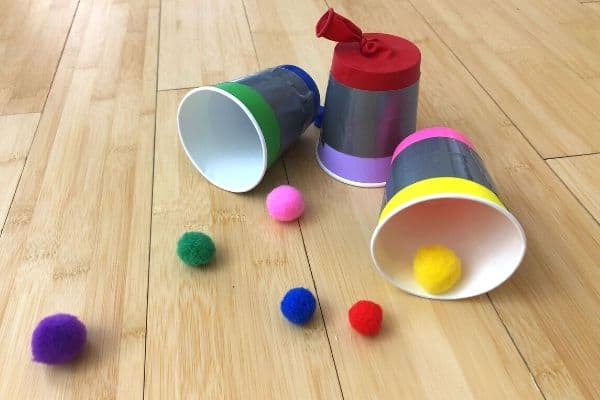 Make this easy and kid-friendly pom pom shooter in only ten minutes! Just pull off your paper cups, extra balloons, pom poms, tapes, and scissors, and you are ready to roll. Your kids will also harness their motor skills through this activity since they need to coordinate one of their hands to hold the cup and use the other for pulling the "trigger." And if you want to make it more fun yet educational, you can ask your kids to do a number challenge. Ask them to shoot N numbers of pom-pom every time and watch them laugh their hearts out while doing it. This paper cup pom-pom shooter is perfect for 2 to 80 years old!
7. Paper Bag Frog Puppet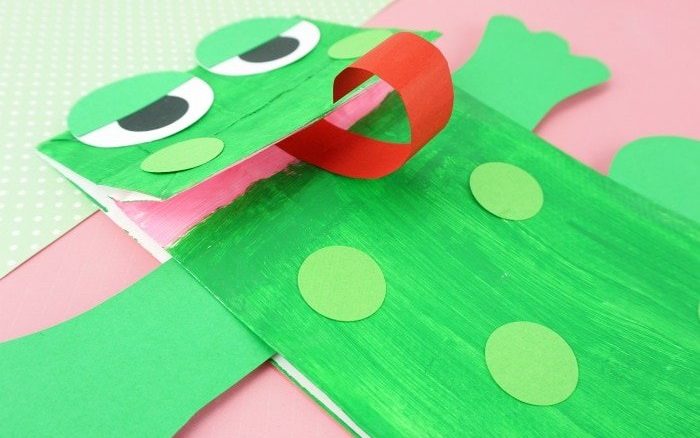 If your kids' favorite book right now is Five Green and Speckled Frogs, this paper bag frog puppet will make them happy. But if they find frogs gross or disgusting, maybe your kids will learn to appreciate these creatures through this adorable craft. It will be so much fun to create this frog puppet with our kids! Plus, puppet play is also one way to fire our child's imagination and make them "ribbit" all day.
8. DIY Paper Tetris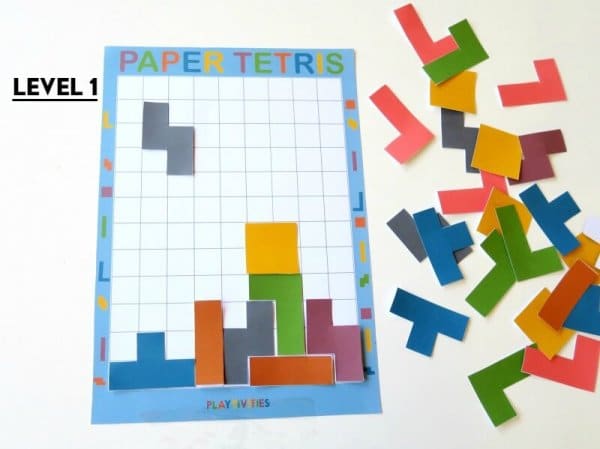 It is time to teach our kids the game that we enjoyed doing when we were their age. Say hello to the stacking game with seven shapes that came from a square—Tetris. This iconic game is a blast from the past that we can recreate with our kids. But let us make DIY Paper Tetris that does not require batteries or chargers. Also, making it can boost the creativity of our kids and encourage them to think critically.
🏎️ RELATED READS:
9. Paper Tunnels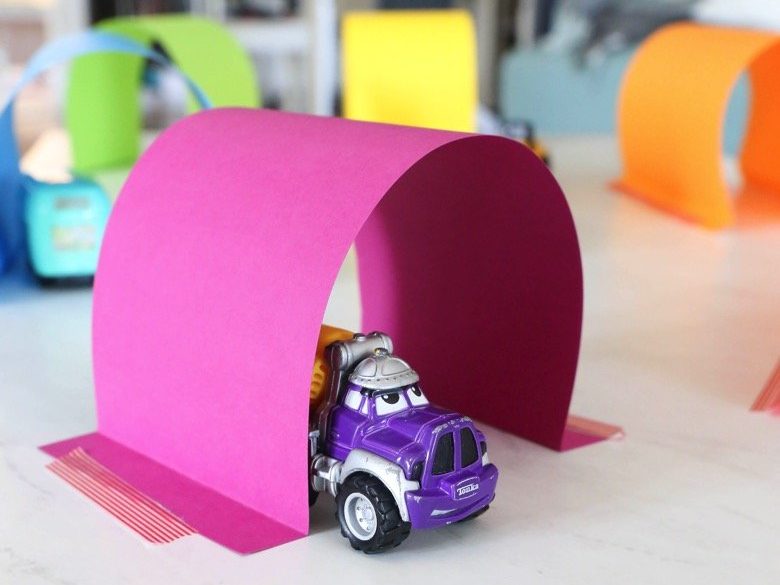 For your little car lovers, paper tunnels for their beloved rides will make them giggle for sure. It might look simple, but hey! Sometimes, the simplest things are the biggest hits. You need some leftover cardstocks, scotch tape, and a hard surface where you can place the paper tunnels. You do not need to splurge some cash, and it is so easy to make! But the return? The smiling face of your children will make your entire day.
Transform Paper Games into Sweat  
Get ready to sweat with your kids because these paper games will turn the play into a sweat:
10. Paper Plate Hoopla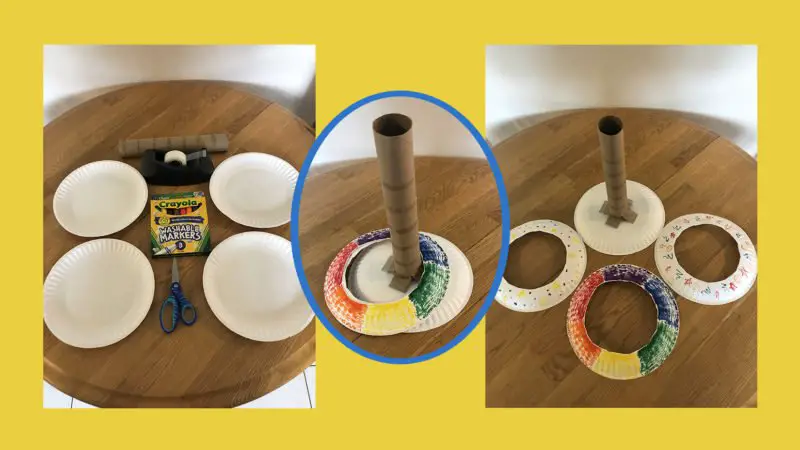 How about some circus games for our kids with paper plate hooplas? This craft activity is perfect for summer and is cheap and easy to make. Just grab your paper plates, cardboard tubes, paintbrushes, glue, and all your crafty stuff. Decorate the plates with your kids, cut them to make rings, and viola—get ready to shoot some hoops! My kids will enjoy painting paper plates and have a good time throwing hoops over the target. And to add more challenge, increase the distance of the target after each throw. For every shoot hoops, your kids will get the point. Prepare the prize, mommies!
🏎️ RELATED READS:
11. Roll and Cross Dice Game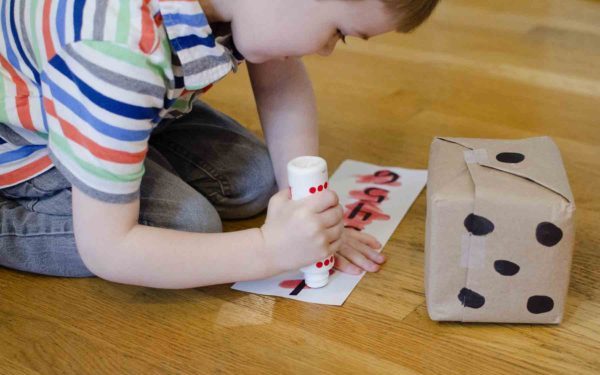 Now get your DIY dice, and spice it up a little with your toddlers through this roll and cross dice game. It is a math game that you can play with your three-year-old kids.  Take a sheet of half paper, then write numbers 1-6. Let your kids roll the dice, then cross out the numeral that matched with the rolled dice. Tossing the dice and picking it up every time harnesses your toddler's motor activity and keeps them moving. This is a fun activity that might become your kids' favorite game.
One of these eleven paper activities might be your kids' next favorite game. So start checking them out one by one and try them all! If you have more fun paper games for kids, don't forget to share them below.
🖍️ Related Reads:
---
---