What little kid doesn't love a backyard trampoline! If our little apartment had a bigger yard, a lemon tree and trampoline is what I would buy first for our daughter. Alas, right now we're stuck indoors with a tiny backyard so let's learn how to draw things instead! Here's a step-by-step tutorial on how to draw a classic trampoline. Easy, great for kids, simple cartoon illustration guide.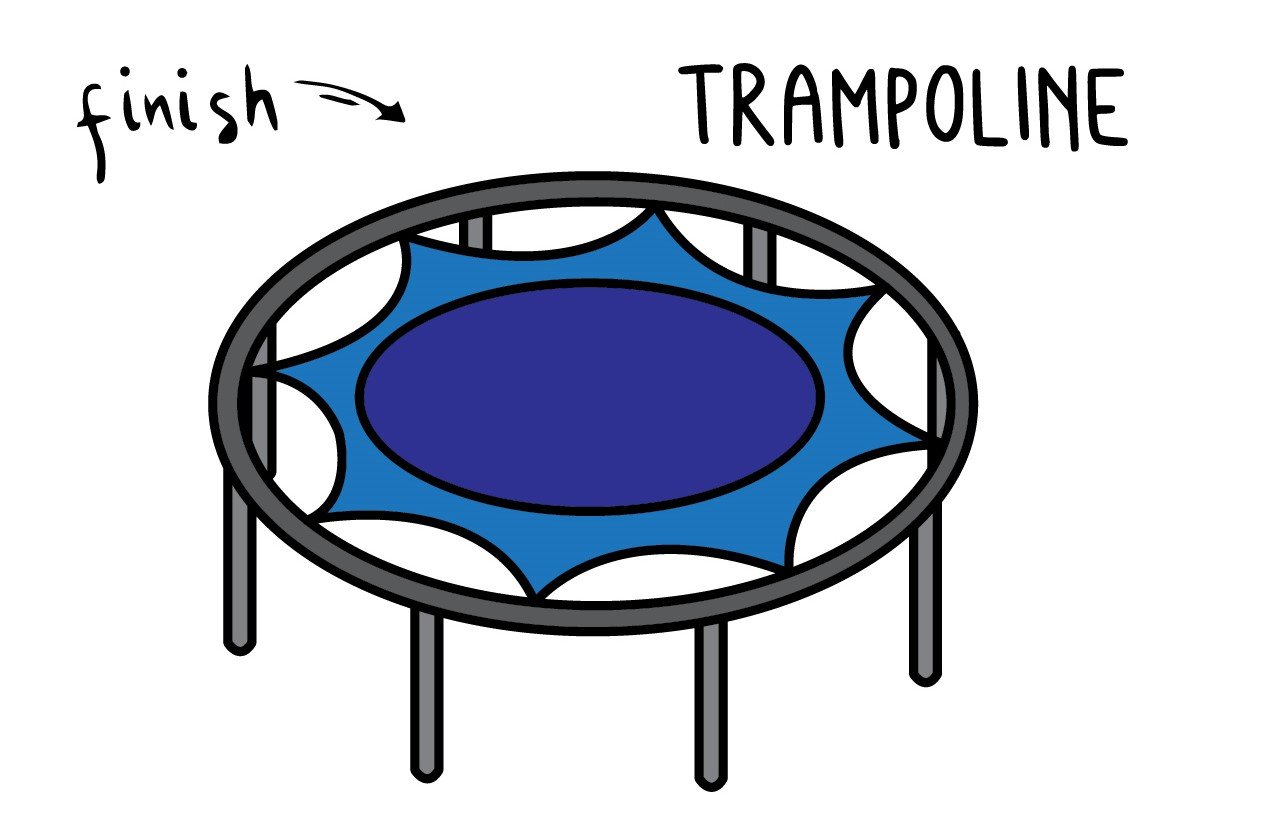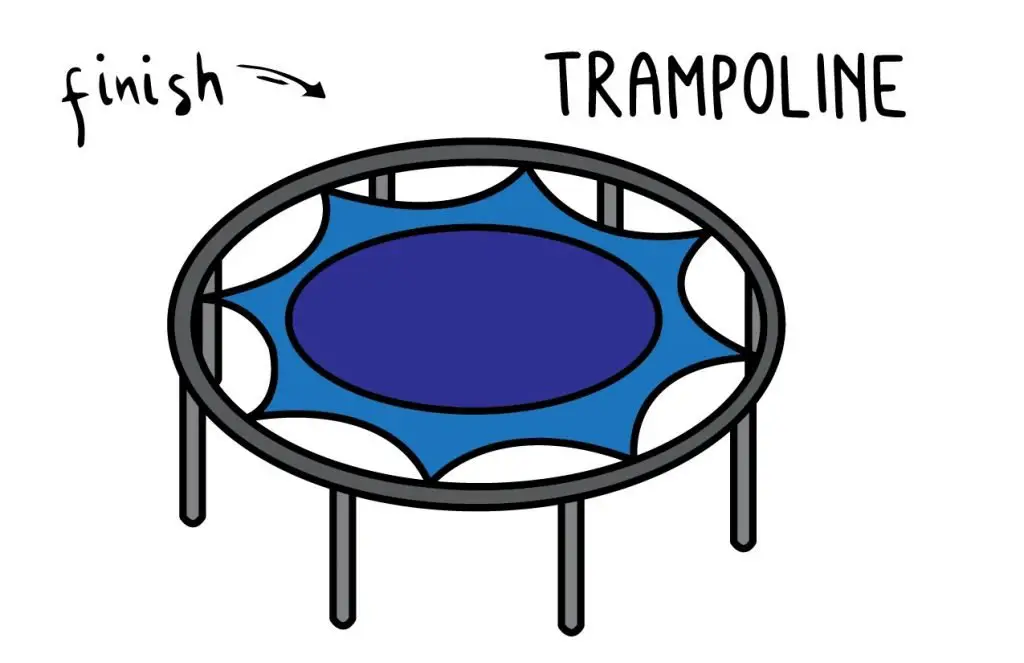 And why not check out our collection of free coloring pages for kids! We update our resources library regularly so feel free to check back as we add more and more content. We're currently at over 1000+ coloring pages and creating more how-to-draw stuff art tutorials!
Note: This tutorial and our many others are suitable for ages 3 to 10 (preschool and above.)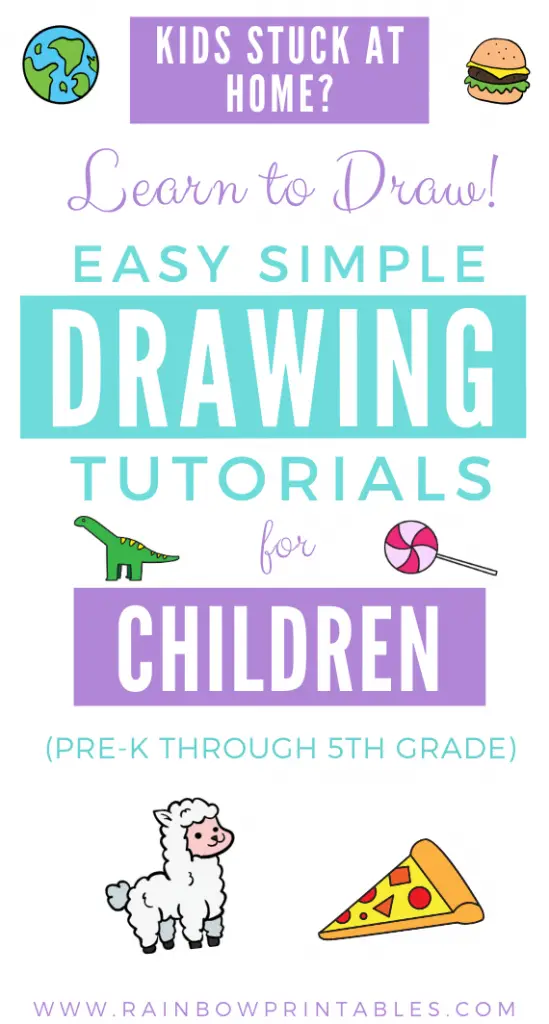 🖍️ Tools For Success
🎨 Parents: The only tools you need to use these how-to-draw tutorials are: an eraser, a pencil, and a piece of paper. But – if you have them around – a sketching pencil makes for fainter and softer lines that help kids build fine motor accuracy. I also recommend going over the sketch pencil with a black outline marker when you're done for a neater finish. Lastly, erase the pencil marks before adding color.
Drawing a Simple & Easy Cartoon Trampoline – Backyard Toy
~
🔖 See our collection of How-To-Draw tutorial instructions for young kids! Check out our collection of free coloring pages for kids while you're here too. We're a group of independent illustrators that create coloring pages, how to draw tutorials, craft printables, and educational worksheets for kids. We update our resource library regularly so feel free to check back as we add more and more content. We're currently at over 1000+ coloring pages and 500+ how-to-draw stuff guides for kids!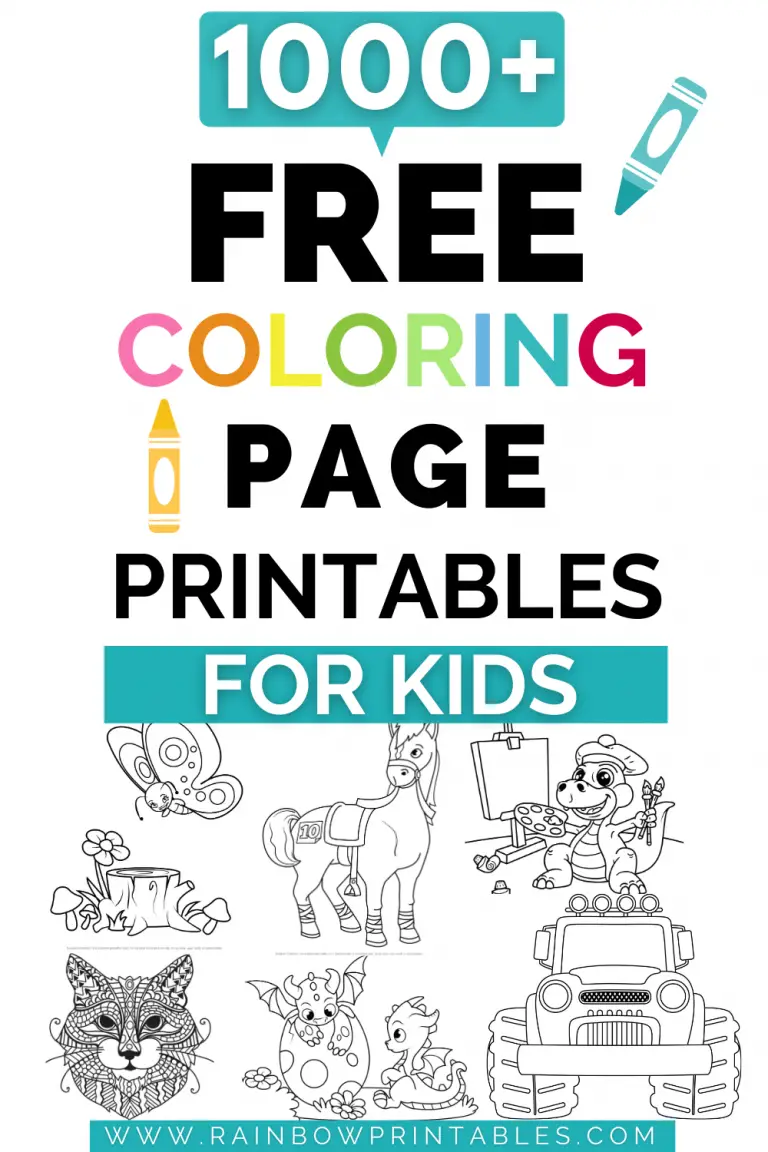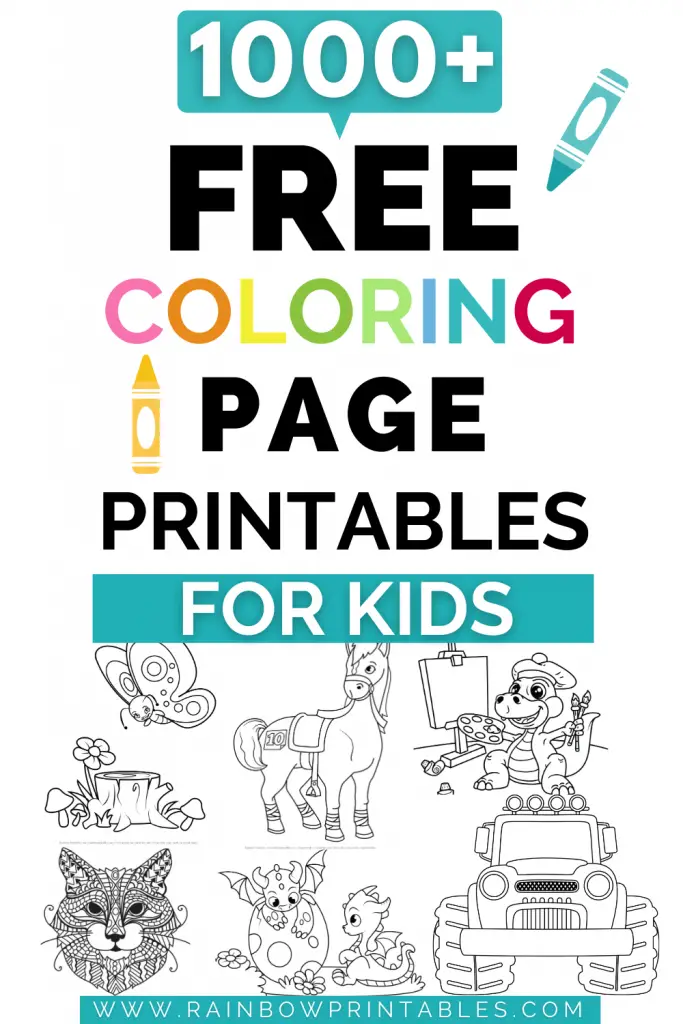 ~
🖍️ Tools For Success
Paper (Empty How To Draw Template PDF)
Pencil
Polymer Eraser
Coloring Tools (I recommend Crayola's 140 Piece Coloring Case)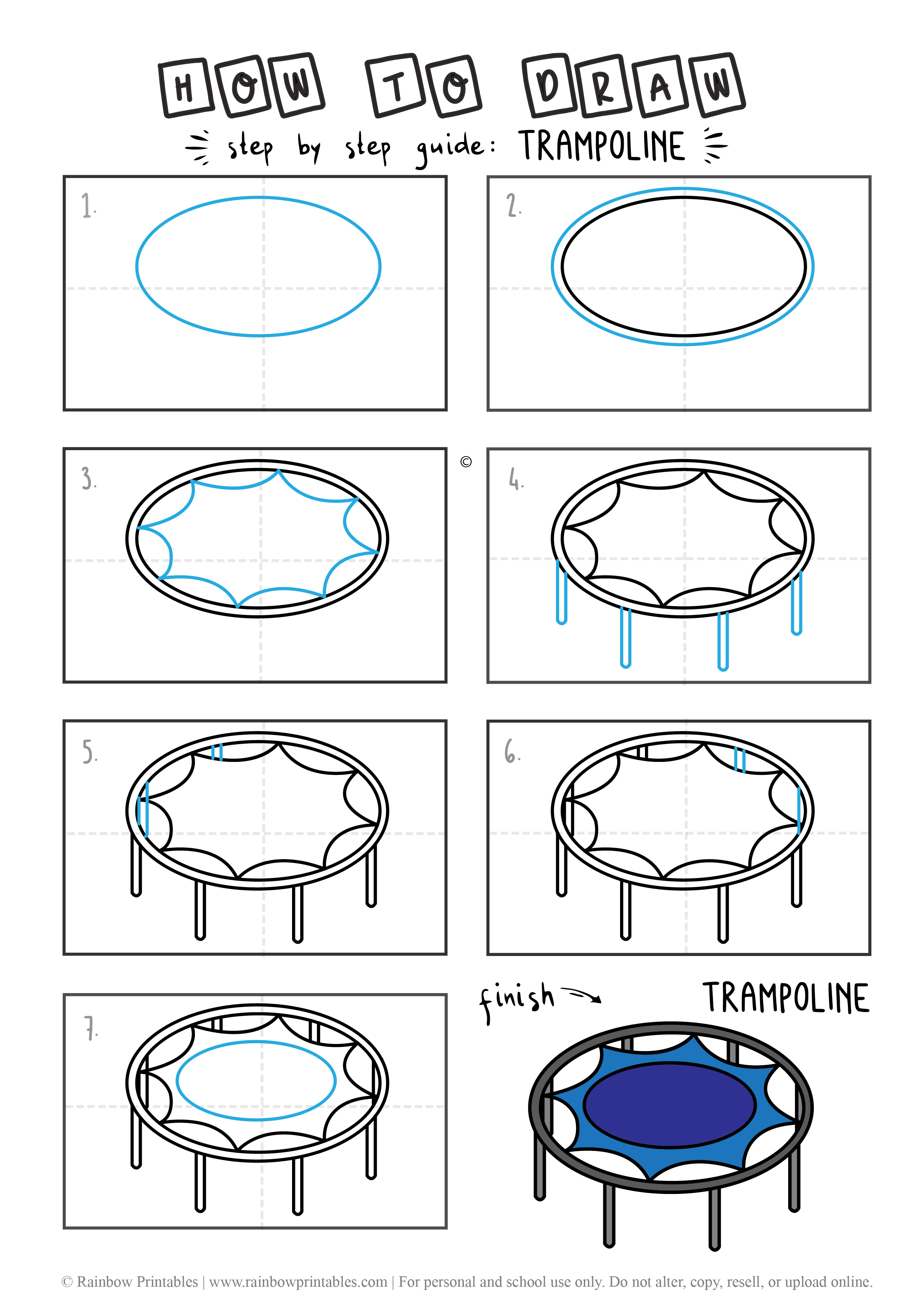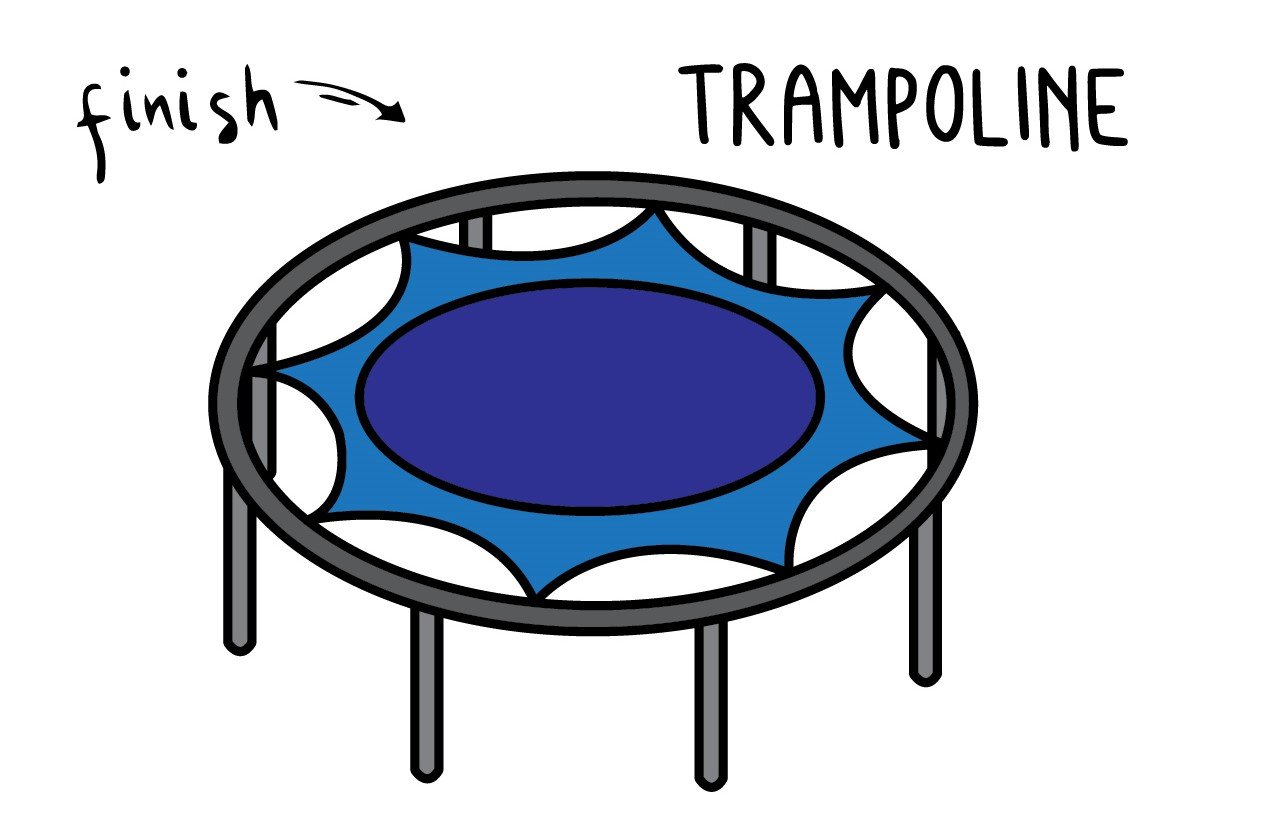 Fun Trampoline Facts For Kids
A man was launched 22 feet in the air by the highest trampoline bounce ever recorded.
The very first trampoline was designed in 1936 by George Nissen and Larry Griswold. George Nissen leased a kangaroo to hop on the trampoline along with himself in the middle of New York's Central Park to promote this new fitness concept.
Mister Kangaroo himself was one of the leading proponents of trampolining as an Olympic sport, even though he no longer manufactured and marketed the device.
In a single minute, the record for most trampoline backflips is 49. Lucas Laurent set this latest record in 2017.
The largest trampoline in the world is the Glasgow, Scotland, Flip Out Trampoline Park. At just over 63,000 ft, it is a huge playground.
The world's highest trampoline jump was 22 feet and one inch by Seres and his brothers, Eric and T.J.
The AJ 120, is a water trampoline, priced at $1,599 dollars (if it's in stock). It's for bouncing while out on a lake etc. The world's most expensive trampoline is the $4,799 AJ 250.
Every year, trampolines are responsible for 100,000 injuries, but that's not true-a UK report showed that the real figure is on average closer to 288.
More than two-thirds of trampoline injuries occur when several individuals jump on a trampoline that does not accommodate more than one person.
Without adding tension on your ligaments or your knees, 10 minutes on a trampoline consume as many calories as a 30-minute sprint.
Trampolining means working in sync with your whole body as you jump, which will significantly enhance your motor skills.
Experienced trampolinists never bounce barefoot, they pros wear special socks or jump with sneakers to prevent rubber burn.
Judy Wills Cline was the first female world trampoline champion and won more world titles than any other athlete. Along with Nancy Smith, she also became part of the world's first world champion synchronized team.
🖍️ MORE HOW TO DRAW TUTORIALS:
Help Support Artists Big and Small
We would much appreciate it if everyone who enjoyed or benefited from our how-to-draw tutorial series can give us a social media shout-out or a link back. This will allow us to create more content by 1) commissioning small, independent artists and 2) teach young children everywhere to create more through art. Thank you.