The catchy sing-song video went viral and within a month, almost every parent with children under the age of 10 has heard it over and over and over. Some hate it; some (mostly kids) love it. I am a big kid and I LOVE baby shark. Not annoying at all 🙂 We have a little toddler too and my husband and I sing it to her when she's too deep into a tantrum. It makes her a little easier to approach and calm down. For that reason, I think Baby Shark is a great tool for young kids! I pay homage to Baby Shark with this drawing tutorial – it's really super cute and easy to draw. I break it down step by step so anyone can draw it!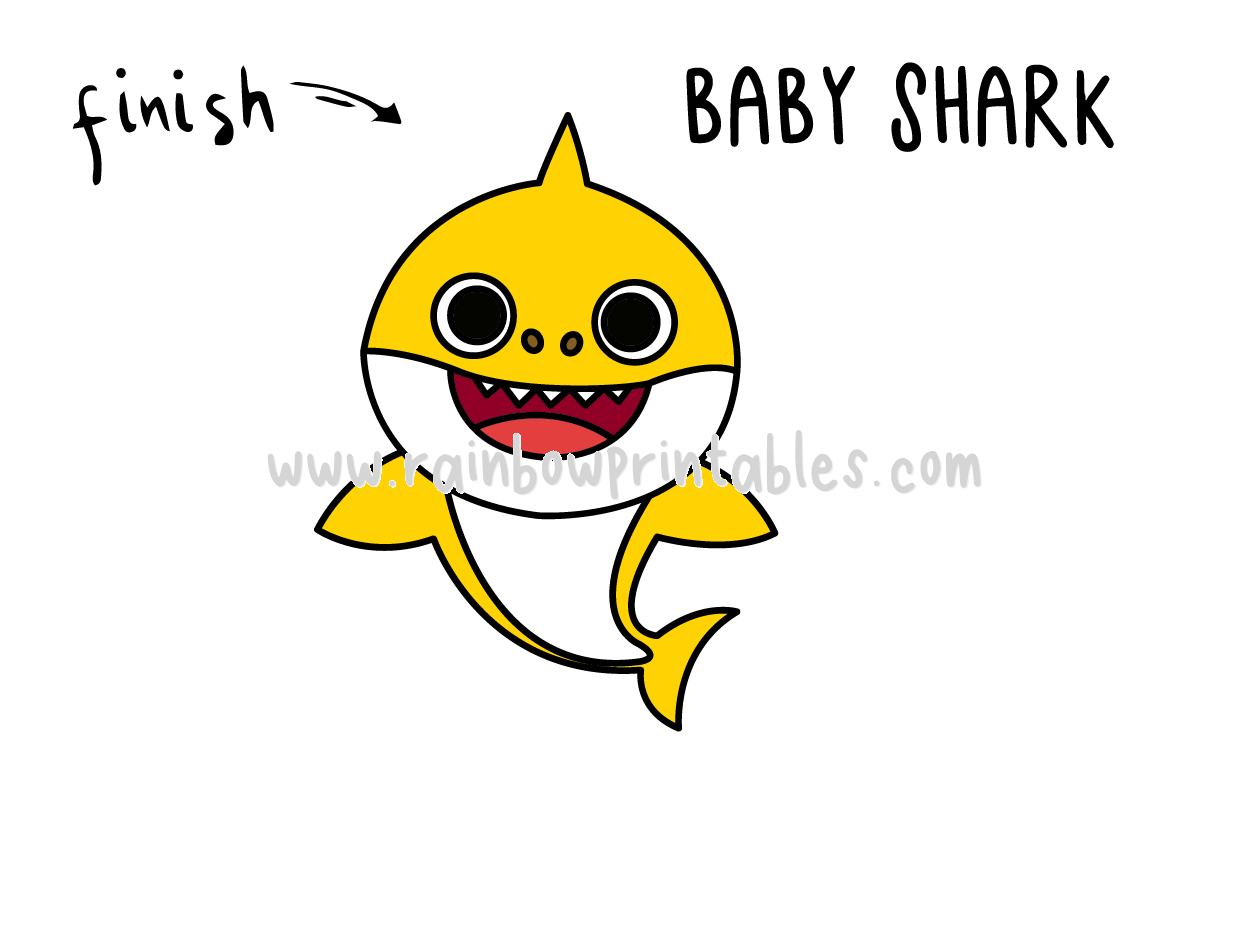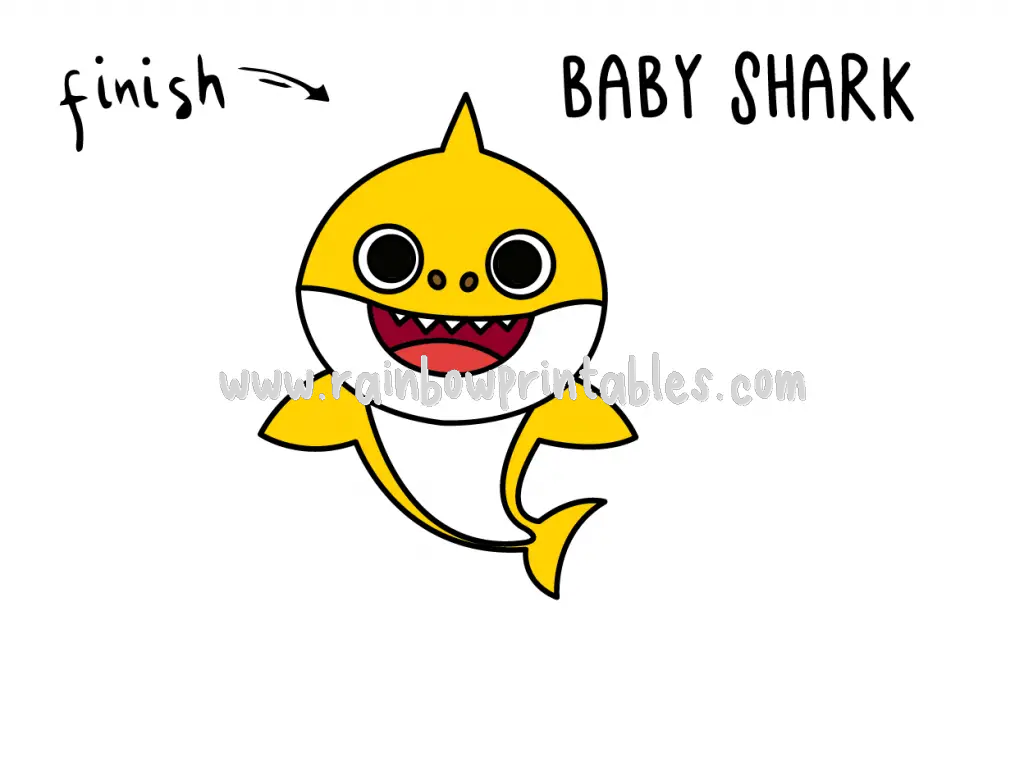 And why not check out our collection of free coloring pages for kids! We update our resources library regularly so feel free to check back as we add more and more content. We're currently at over 1000+ coloring pages and creating more how-to-draw stuff art tutorials!
Note: This tutorial and our many others are suitable for ages 3 to 10 (preschool and above.)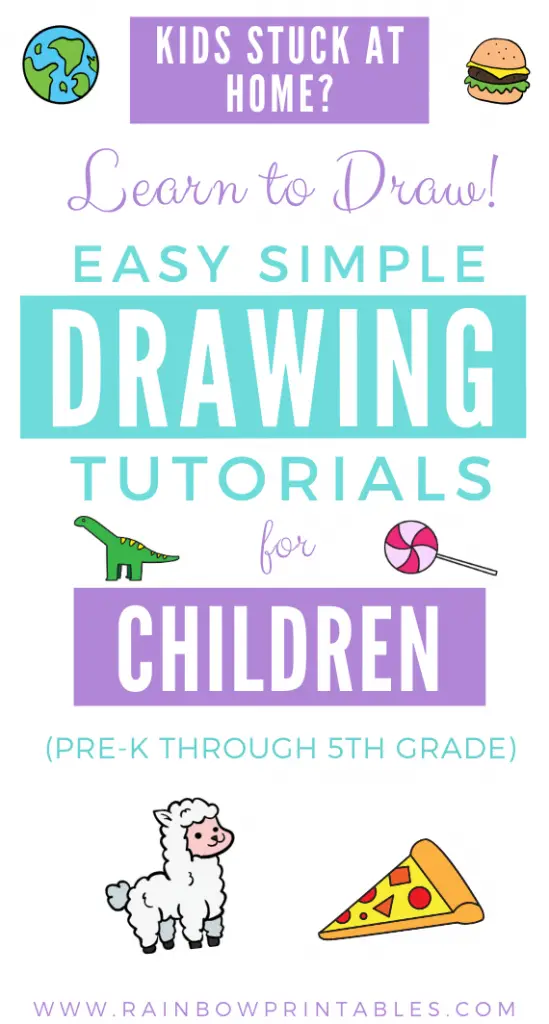 🖍️ Tools For Success
🎨 Parents: The only tools you need to use these how-to-draw tutorials are: an eraser, a pencil, and a piece of paper. But – if you have them around – a sketching pencil makes for fainter and softer lines that help kids build fine motor accuracy. I also recommend going over the sketch pencil with a black outline marker when you're done for a neater finish. Lastly, erase the pencil marks before adding color.
~
🔖 See our collection of How-To-Draw tutorial instructions for young kids! Check out our collection of free coloring pages for kids while you're here too. We're a group of independent illustrators that create coloring pages, how to draw tutorials, craft printables, and educational worksheets for kids. We update our resource library regularly so feel free to check back as we add more and more content. We're currently at over 1000+ coloring pages and 500+ how-to-draw stuff guides for kids!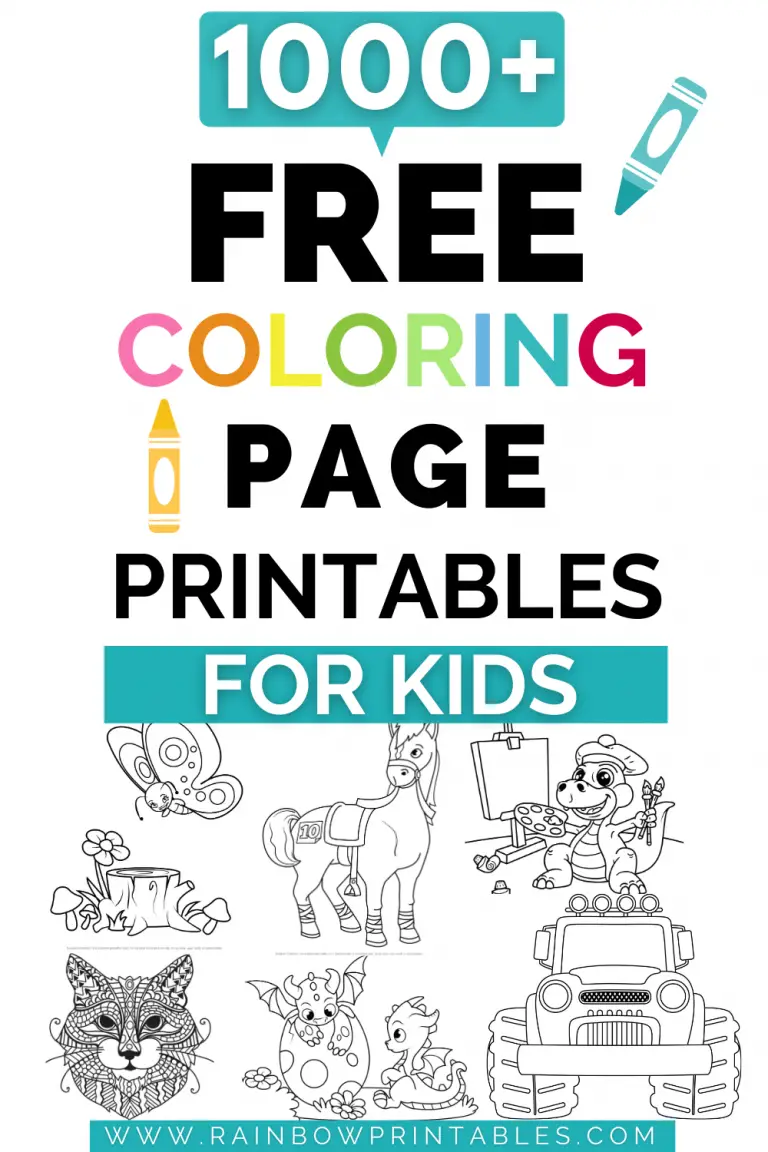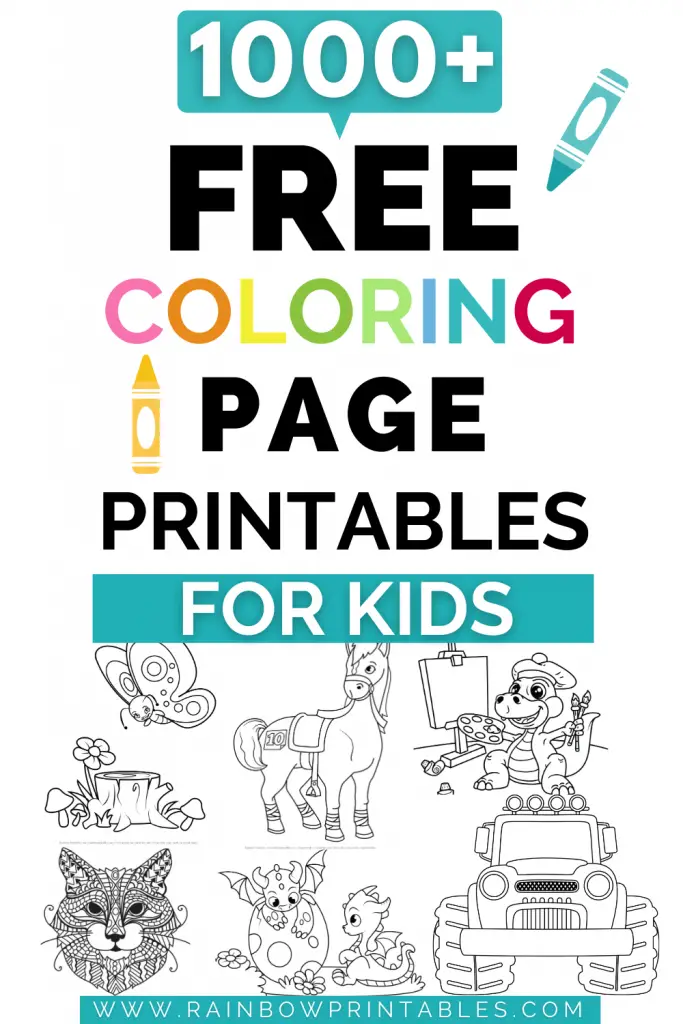 ~
🖍️ Tools For Success
Paper (Empty How To Draw Template PDF)
Pencil
Polymer Eraser
Coloring Tools (I recommend Crayola's 140 Piece Coloring Case)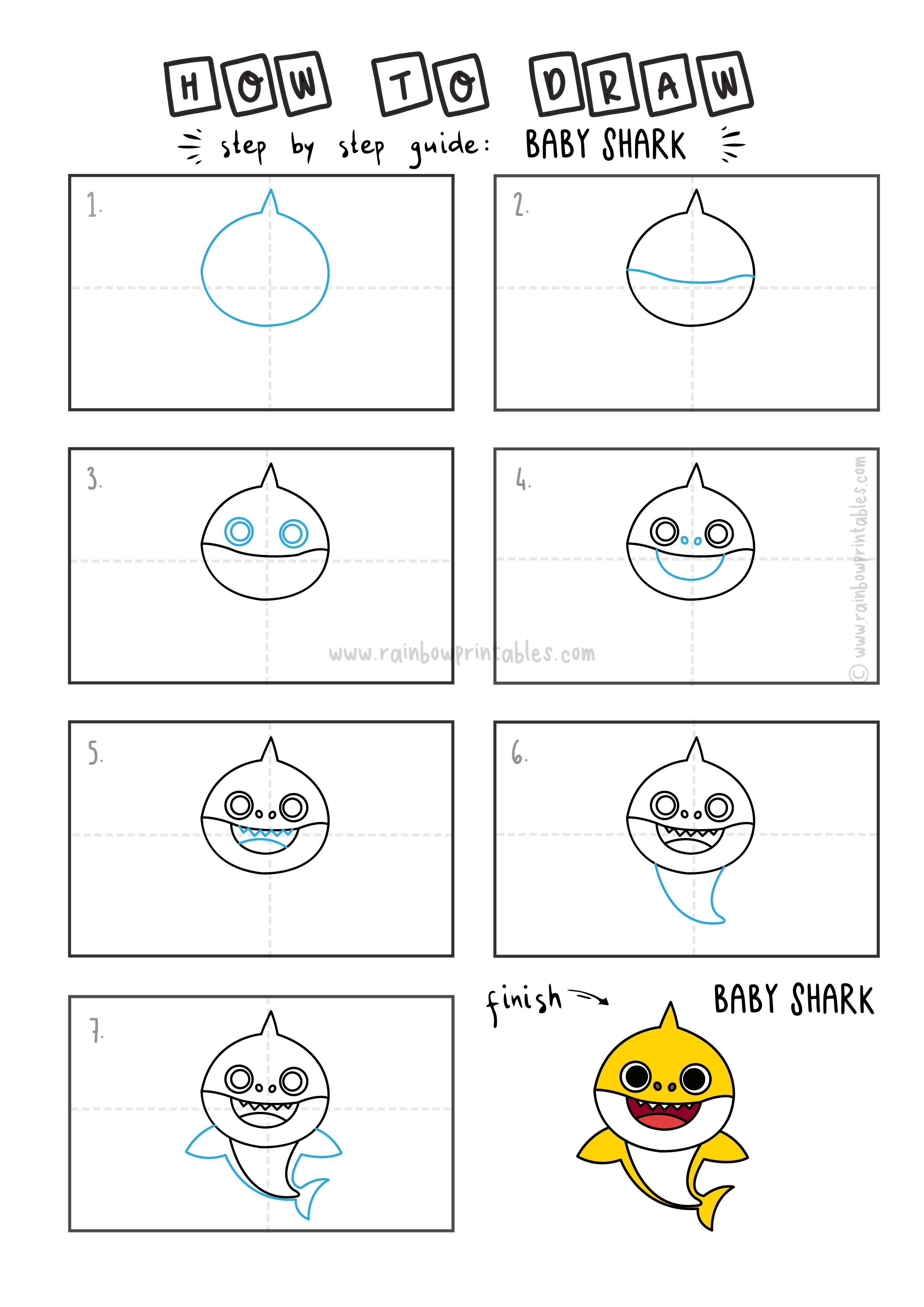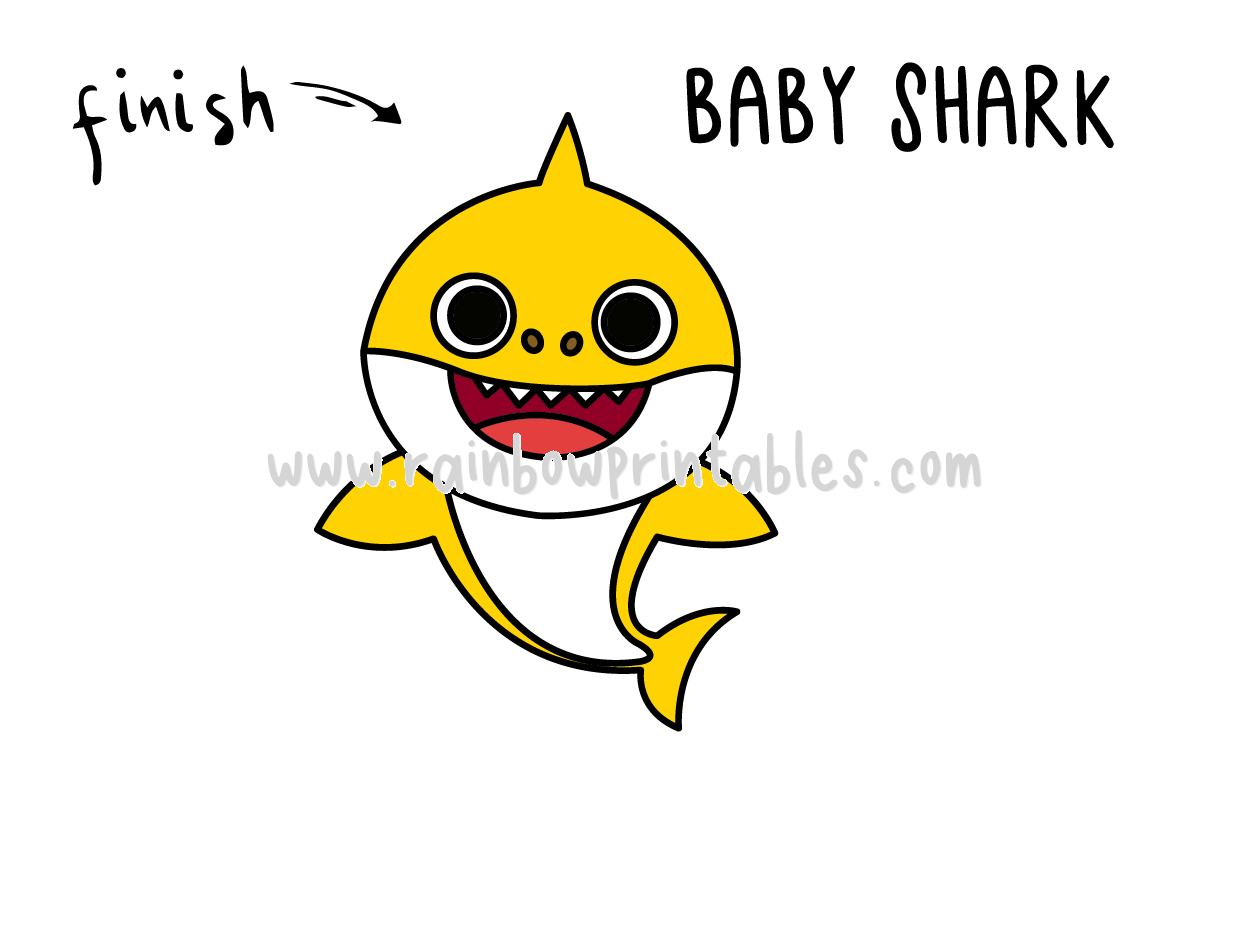 Step-by-Step Guide on How To Draw A Baby Shark 
Draw a circular facial outline with a pointed triangular fin on top of the head, then divide the face into halves using a slightly curved horizontal line. 
After completing the outline, let's have the facial details – two big rounded eyes with a smaller iris inside each, two small nose holes in between the eyes, and a curvy, smiling mouth beneath the lower half of the face with five sharp triangular teeth on the upper lip and a curved-shape tongue on the lower lip. 
Below the head, connect an inverted triangular body with a curved pointy end. Imagine an inverted Santa Hat; it's similar to that. 
Enclose the baby shark's body with two wide sharp triangular fins on each side, tracing it downwards through the body to form an inverted semi-circular tail in the end. 
Finally, we can color our cute baby shark with yellow on the outer body parts, white on the inner, black on the iris, red in the mouth, pink on the tongue, and white on its teeth and around the iris. 
You can also have this baby shark in pink and blue, depending on your favorite!
Silly Baby Shark Trivia Facts
Baby shark has no lyrics or writers to attribute to, it was thought the lyrics started as chants at summer camps but no one can say really.
There are different renditions to Baby shark but Pinkfong's cracked the US Billboard HOT 100 chart in kid digital song sales.
The original baby shark lyrics were a little more gore-y and knowing it wouldn't sit well with toddlers were made more kid-friendly without the blood and shark attack references.
There's even a baby shark dance challenge now (you need to wear the baby shark costume.)
While it doesn't exist in the U.S. version, the Korean version says Mommy Shark is "pretty", Daddy Shark is "strong", Grandma Shark is "kind", and Grandpa Shark is "cool".
There's baby shark cereal with marshmallows created in partnership with Kelloggs.
MORE HOW TO DRAW TUTORIALS…
Help Support Artists Big and Small
We would much appreciate it if everyone who enjoyed or benefited from our how-to-draw tutorial series can give us a social media shout-out or a link back. This will allow us to create more content by 1) commissioning small, independent artists and 2) teach young children everywhere to create more through art. Thank you.