The world is such a big place, filled with so many novel things; as you can imagine for a little kid this can be intimidating to stand out, be unique, and feel confident.
Here is something I've noticed that very, very often flies under the radar. Have you noticed most kids stick to drawing out only what they already know? They copy the art style of their siblings and classmates' drawings over and over until it all starts looking the same.
You see this artistic repetition – A LOT – especially between the grades of K-2. They copy the same symbols and ideas as part of their peer group. You see the same line formation, same shapes, the same concept repeated OVER and OVER until it becomes the stereotypical "kid drawings" magnetized to the fridge.
*Rainbows with a smiling sun…matching flowers/clouds/hearts…*
It's so normal that parents and even art teachers come to expect it. "They seem to want to be just like each other, and draw just like each other."
In a small unfortunate way, it is totally normal. Having peer groups and social circles is important. Fitting in is important.
BUT the problem arises when you're talking about the core lesson being taught to kids who internalizes social concepts like this like sponges: individuality is already getting lost at such a tender age.
Ashley draws a rainbow with some flowers, then Ella draws the same rainbow with some flowers, and Alex draws the same rainbow, etc.
And this is the exact moment art becomes underutilized in school, in teaching, and in the creative lives of our children.
These How-To-Draw step-by-step tutorials can really help add a little diversity and create a starting point to get your kids drawing more than just unicorns, rainbow, houses, and butterflies. These 8 short step-by-steps are really simple and suitable for any kid age 3+.
They will learn to:
Expand upon their artistic repertoire.
Encourage fine motor skills.
Raise awareness in concepts otherwise eluded.
Demonstrate logical order of 3d objects to 2d shapes.
Build confidence in their skills as an artist.
Pioneer the revolution and end the terrible trope of just another "kid drawing."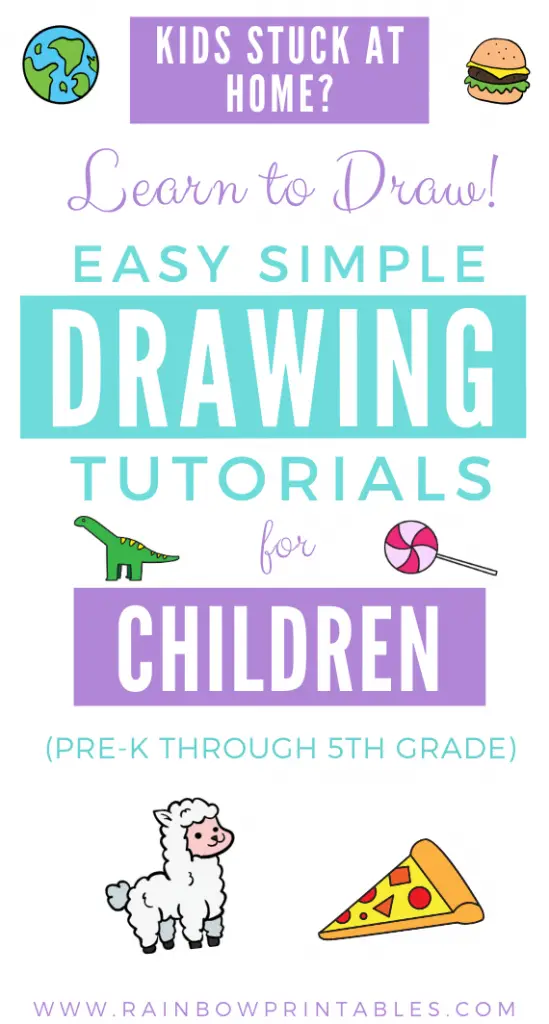 How To Draw for Kids Step by Step:
We specialize in very simple and easy drawing tutorials that young children can start their artistic journeys on. The best tutorial age range for our how-to-draws is from age 3 to 8. We focus on simple lines, easy shapes, and building strong foundations first. Turning a 3D object into 2D line art is not always easy; it takes practice especially when you are working with young children.
Help Support Artists Big and Small
We would much appreciate it if everyone who enjoyed or benefited from our how-to-draw tutorial series can give us a social media shout-out or a link back. This will allow us to create more content by 1) commissioning small, independent artists and 2) teach young children everywhere to create more through art. Thank you.