Unless you've spent your entire on a farm, almost every one of us has been in or seen a tall building before. They're often called skyscrapers but actually to be classified as a skyscraper by modern standards, you would need at least 100 to 150 meters in height. Today we're drawing a humble city building. Structurally med. size city buildings tend to be more "boring" (read, practical!) and less showy. They are practical, think of them as office buildings. They also make it really easy for young kids to understand how to interpret structure. We're using that to our advantage as normal city-building makes a great art lesson for young ones to accurately draw what they see. Let's get started on our city building!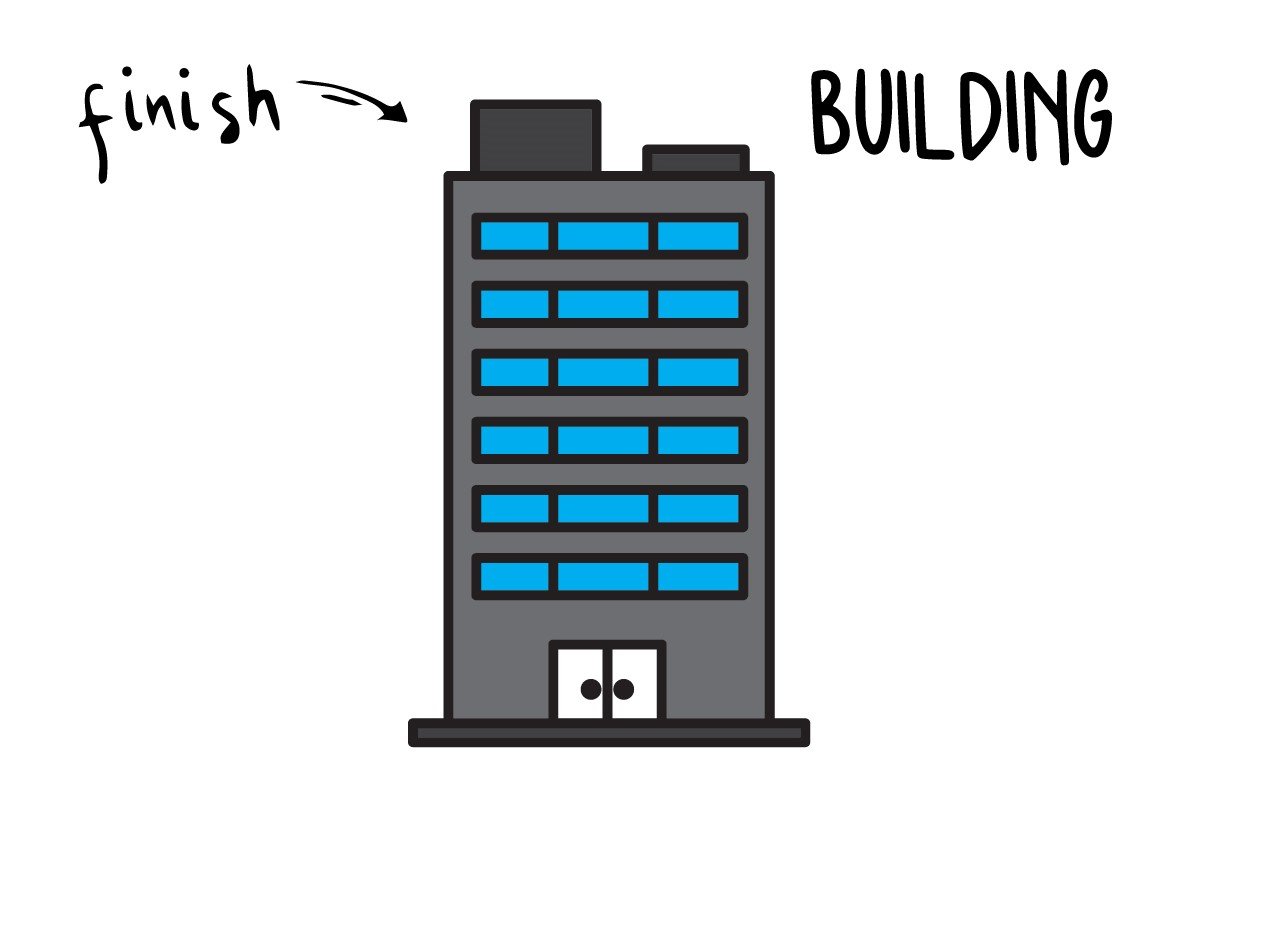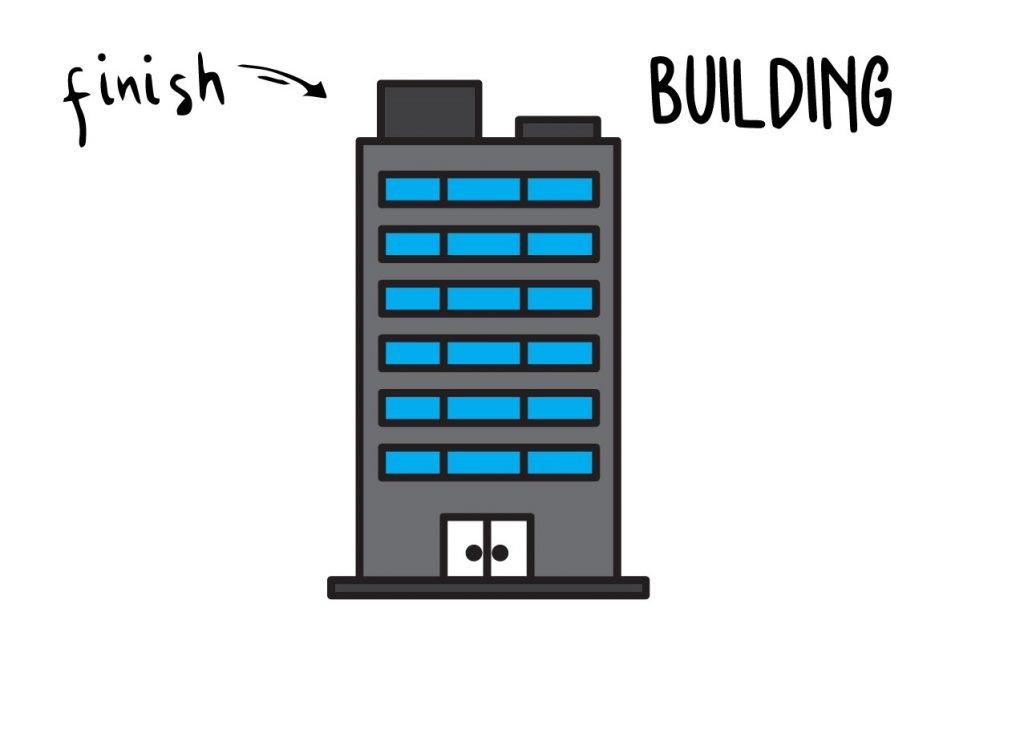 And why not check out our collection of free coloring pages for kids! We update our resources library regularly so feel free to check back as we add more and more content. We're currently at over 1000+ coloring pages and creating more how-to-draw stuff art tutorials!
Note: This tutorial and our many others are suitable for ages 3 to 10 (preschool and above.)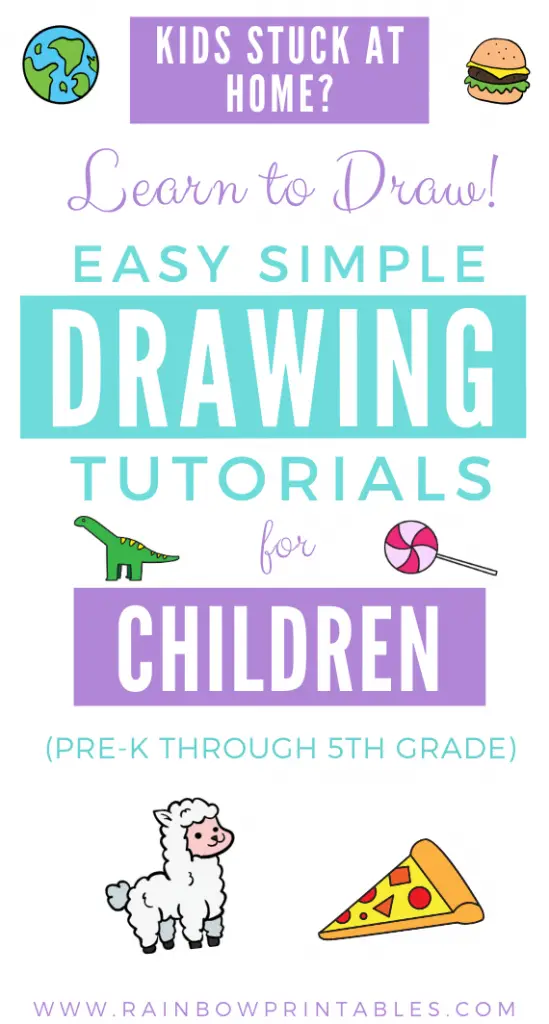 🖍️ Tools For Success
🎨 Parents: The only tools you need to use these how-to-draw tutorials are: an eraser, a pencil, and a piece of paper. But – if you have them around – a sketching pencil makes for fainter and softer lines that help kids build fine motor accuracy. I also recommend going over the sketch pencil with a black outline marker when you're done for a neater finish. Lastly, erase the pencil marks before adding color.
Step-by-Step Guide On How To Draw a Building
We live 10 blocks from a city government building that looks just like this! Despite its humble looks, this city-building houses thousands of important government employees that make our city run well every day. Let's make like busy bees and start drawing! 🙂
Draw a thin and long rectangular base with another prominent rectangular structure on top of it. It serves as the foundation of our building. 
 On top of the rectangular structure, draw two rectangles – a bigger rectangle on the left and a smaller one on the right.
Then, on the bottom, draw two rectangular doors divided by a vertical line in between them. Also, draw two circular knobs parallel to each other. 
Buildings are not buildings without their numerous, extensive, and long glass windows. So, let's draw six long rectangular windows parallel to each other on the building's structure. 
Make sure that the distance between each window is even.
Divide each window evenly with two vertical lines inside the rectangular windows, forming three windows on each floor. 
Let's finish the building's touch by coloring it with its natural gray color, blue glass windows, and a white glass door. 
~
🔖 See our collection of How-To-Draw tutorial instructions for young kids! Check out our collection of free coloring pages for kids while you're here too. We're a group of independent illustrators that create coloring pages, how to draw tutorials, craft printables, and educational worksheets for kids. We update our resource library regularly so feel free to check back as we add more and more content. We're currently at over 1000+ coloring pages and 500+ how-to-draw stuff guides for kids!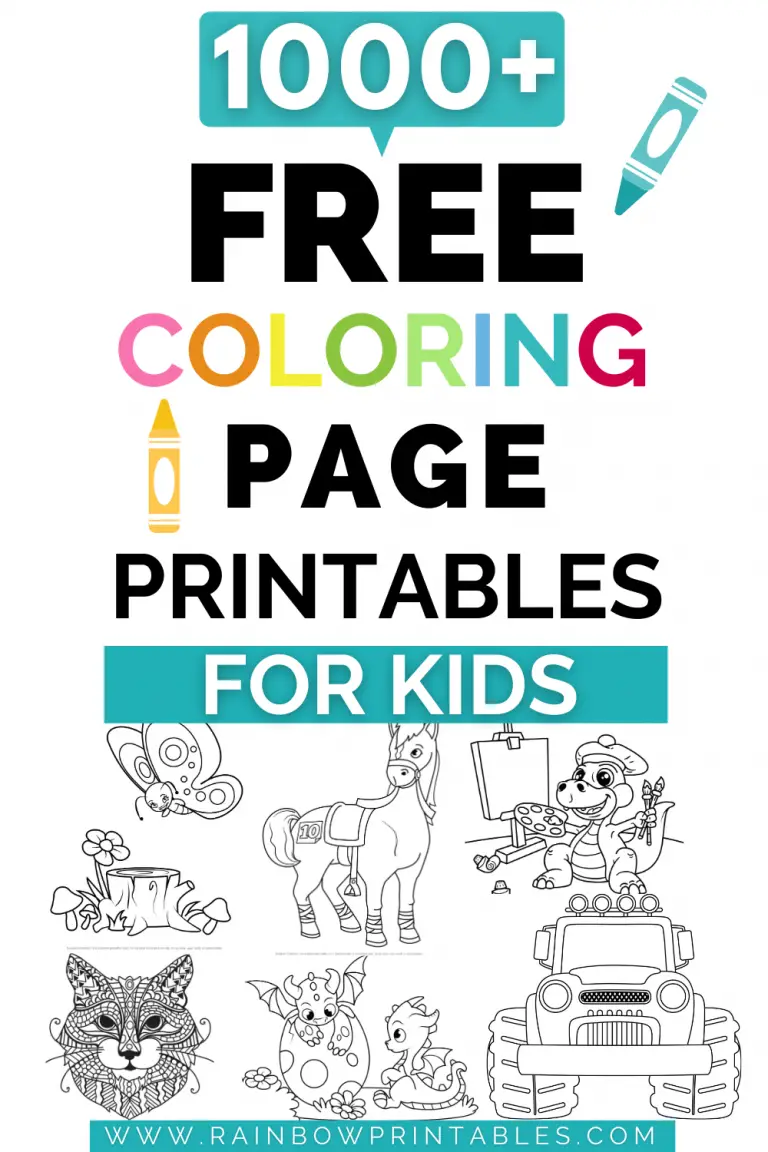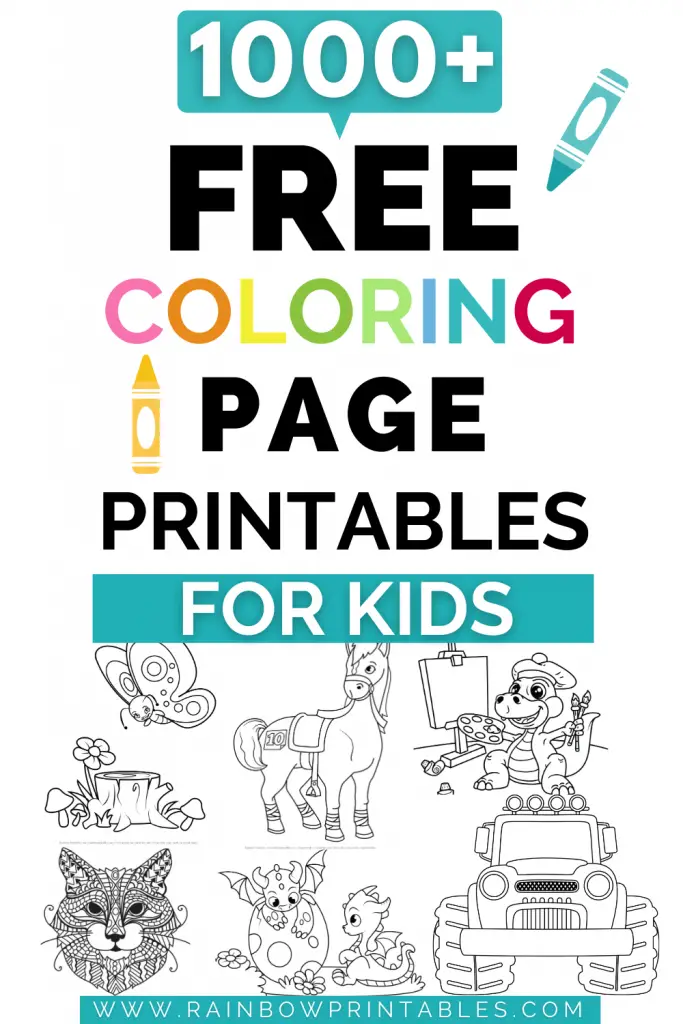 ~
🖍️ Tools For Success
Paper (Empty How To Draw Template PDF)
Pencil
Polymer Eraser
Coloring Tools (I recommend Crayola's 140 Piece Coloring Case)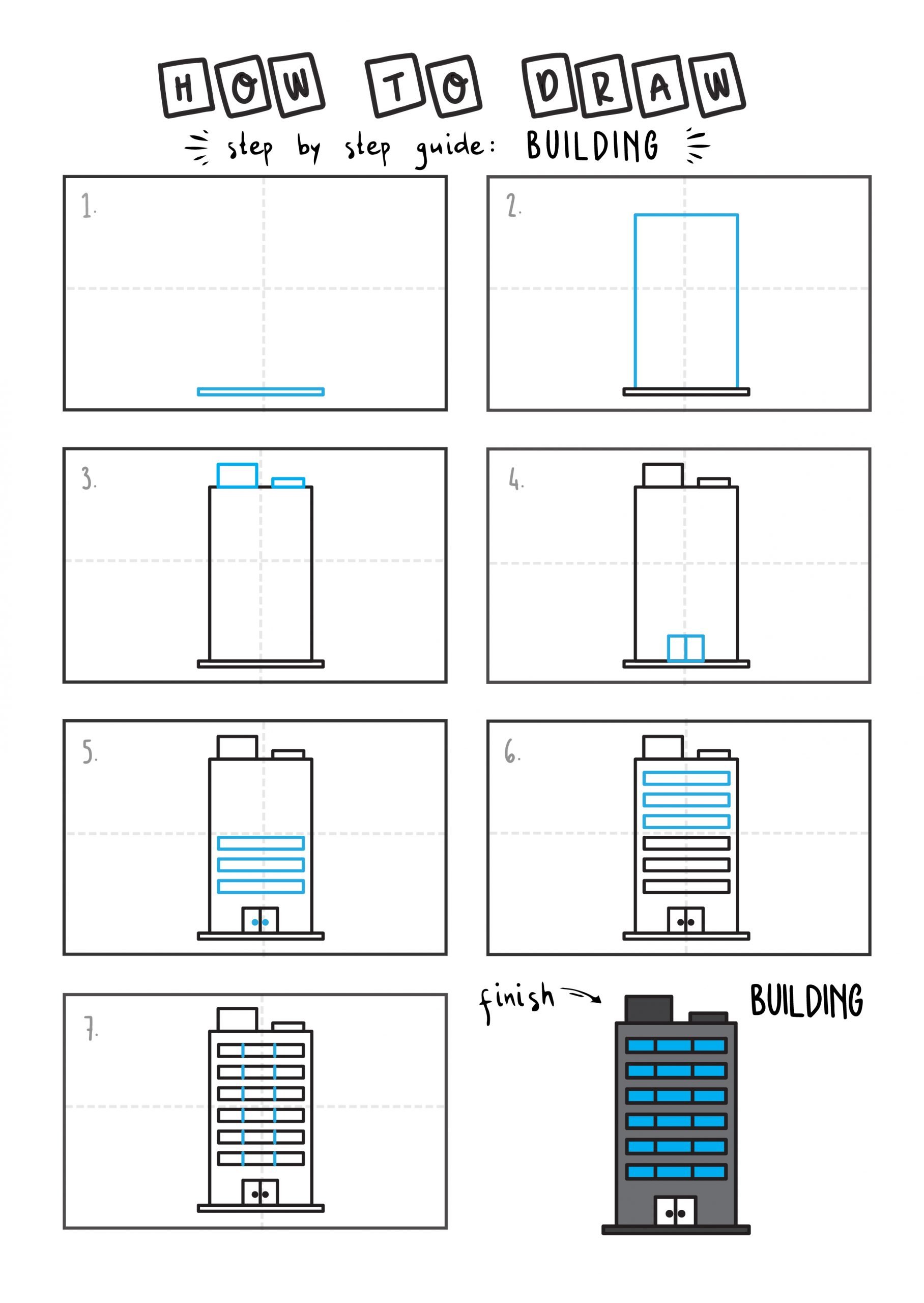 Printing & Saving Instructions:
Desktop & laptop users: the instant print button is in the upper left-hand corner.
Mobile users: if you don't see the instant print icon on mobile for whatever reason, toggle your mobile browser to "Desktop View" and you should be able to see it. You can find that in your web browser's menu. Or find the nearest computer to print.
Change the page orientation from horizontal or vertical depending on what fits best.
To decrease load time we put images on different sub-pages. Use the navigation on the top and bottom of the galleries to toggle.
Designed to fit both A4 size & U.S. standard letter size but preview your specs just in case.
Want to save a file for later? Just hit the instant print button and choose instead to print, select Save As "PDF" in the drop-down selection, and done! (Your screen and selection might look a little different.)
Interesting Trivia About Buildings
Oops! 6 months after finishing a new custom building that cost $680,000 with an ocean view, Missouri builders found they accidentally built on the wrong land lot.
A building can be designed to be beautiful, boring, exciting, or ugly. Architects are responsible for designing buildings and their job is to make the building stay within budget while being practical for people who will use the building.
Frank Lloyd Wright is a legendary architect known for his buildings, in actuality, in his entire career he has only designed one tall building. The rest were creations similar to homes, museums, gardens, and apartment houses.
Only 10% of women work in the construction industry today. The highest women construction worker percentage was around WWII when women were lead to work outside the home when the men went to war.
Chrysler Building's Spire was constructed in secret. It held the tallest building in New York for 11 months before the Empire state building was constructed by its competitor in 1931.
Roughly speaking, a 20-unit apartment building has an average per month rent of $950.
A city building is a general definition of a structure where people live or use. But a high-rise tower vs skyscraper? The high rise is a building with more vertical height than horizontal. But specifically, skyscrapers are 40+ floors/stories or are taller than 490 ft.
🖍️ MORE HOW TO DRAW TUTORIALS…
Help Support Artists Big and Small
We would much appreciate it if everyone who enjoyed or benefited from our how-to-draw tutorial series can give us a social media shout-out or a link back. This will allow us to create more content by 1) commissioning small, independent artists and 2) teach young children everywhere to create more through art. Thank you.