Oh he's a mean one, Mr. Grinch. I don't think Mr. Grinch needs an introduction. It's a true American Christmas classic! The Grinch is an animated Christmas fairy film released in the United States originally created by Dr. Seuss. It is based on Dr. Seuss's 1957 novel How the Grinch Stole Christmas. A computer-generated version was released in 2018 by Illumination and Universal Pictures. In this class, One Christmas, fed up with it all – Mr. Grinch and his cute dog Max prepares to destroy the Christmas festival of Whoville by stealing all the town citizens' decorations and gifts. Spoiler, it didn't work! It's a heartwarming story, and who doesn't love an anti-hero as a central character? If you're a Seuss fan like I am, then this EASY PEASY Grinch drawing tutorial will surely bring you joy as you recreate Seuss's most famous character.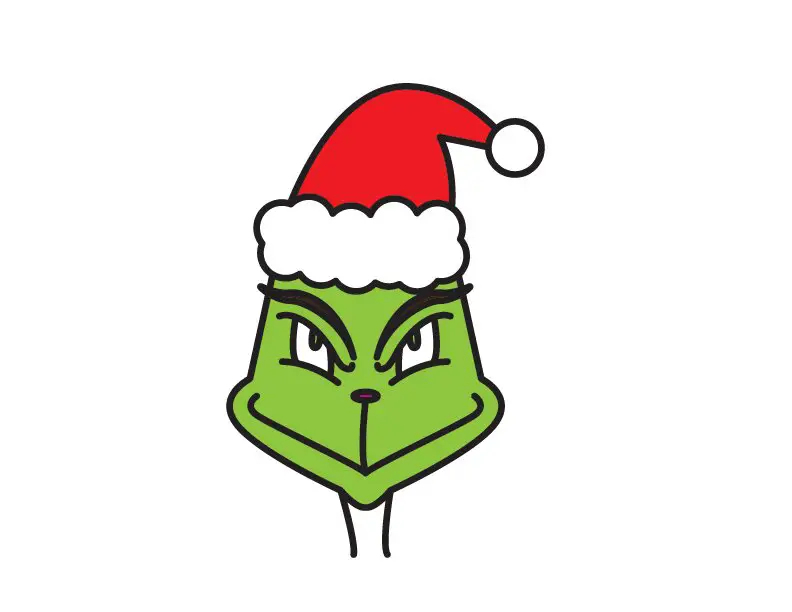 This tutorial and our many others are suitable for ages 3 to 8.
🎄 Can't get enough of Christmas? Download some FREE Christmas coloring pages for free here! We update our master coloring page collection regularly so check back as we add more and more coloring pages for kids. Currently over 1000+ high-quality coloring pages now.
✏️ TOOLS FOR SUCCESS
How-To-Draw Template – International (A4) or U.S. Size (8.5×11 in)
Sketching Pencil
Polymer Eraser
Outline Marker
Coloring Tools
🎨 Parents: The only tools you need for these how-to-draw tutorials are: eraser, pencil, and a piece of paper. But – if you have them around – a sketching pencil makes for fainter and softer lines that help kids build fine motor accuracy. I also recommend going over the sketch pencil with a black outline marker when you're done for a neater finish. Lastly, erase the pencil marks before adding color.
Step-by-Step: How to Draw a Grinch for Kids
We're drawing a cartoon Grinch that's been simplified for young children. We skipped the sharp face scruffs, but you are free to add those on after you get a hang of a basic Grinch. We are staying with the classic bright green colored Grinch; the original Grinch by Seuss was black and white. This vile green can be described as…seasick crocodile; I like to call the shade "dumpster stink." Sounds great…? Let's start.
Draw an inverted pentagon-shaped face leaving the upper part open and the three corners with slight curves.
On the open space, draw a cloud-like shape – the more curves, the better.
Then, on top of it, draw a triangular Santa hat with a circular bid in the end.
Inside the Grinch's face, draw two adjacent diagonal lines parallel to the jawline.
Next, in the middle of the two diagonal lines, draw a vertical line with a tiny oval on top. After that, draw two parallel lines below the grinch's chin for the neck.
Draw a curved eyebrow pointing upwards. Double the curves to make the eyebrow look thick.
Underneath, draw another curved line following the eyebrow's direction; then, on the opposite sides, draw two vertical lines with a diagonal line under them. This will serve as the eye so, to complete it, draw a small circular iris on top.
Repeat step three to form the right eye and eyebrow. You'll have the creepiest eyes!
Let's make this Grinch dumpster green with evil wormy brown eyebrows, white eyes, and a red and white Christmas hat!
Printing & Saving Info:
The instant print button is in the upper left-hand corner. If you don't see the instant print icon on mobile, toggle your mobile browser to "Desktop View" and you should be able to see it. Turning on "Desktop View" is on the upper right of your browser screen under "Settings."
To decrease load time we put large images on different sub-pages. Use the navigation on the top and bottom of the galleries to toggle.
Fits both A4 sizes and fits US standard letter sizes but preview your specs just in case.
Want to save a file for later? Just hit the print button and choose instead of printing, select Save As "PDF" in the drop-down selection, and done! (Your screen and selection might look a little different.)
Interesting Facts about The Grinch
The original television special starred Boris Karloff in 1966 and the feature-length 2000 live-action film starred Jim Carrey as the Grinch.
The makeup process for the 2000 live-action movie starring Jim Carrey was so horrible, he considered quitting his role as the Grinch. A CIA agent who specialized in torture was hired to help him endure an eight and a half HOUR makeup process.
Following The Lorax, this is Illumination's second Dr. Seuss adaptation in 2012.
The Grinch hated Christmas for 53 years (which was the age of Dr. Seuss when he wrote it.) Dr. Seuss himself who lived in La Jolla, California lived above a tall hill that oversaw the Christmas lights and he didn't like them very much being a recluse.
The Grinch has garlic in his soul and spiders in his brain! (Don't touch him with a thirty-nine-and-a-half foot pole!)
The Grinch met Cindy Loo Who…who couldn't have been more than two!
The Dr in Seuss was awarded to Ted Geisel (real name of Dr. Seuss) after his passing.
Dr. Seuss related the most to the character of Grinch, he was self-described as grumpy too.
The Grinch in the original books was black and white in color with pink eyes. Green came later after the first television adaptation.
Ted Geisel drove around with a vanity license plate that read "GRINCH" following the success of How The Grinch Stole Christmas.
"How the Grinch Stole Christmas" cost around $300,000 in the 60s. Back then, it was 10 times more expensive than other half-hour television animations.
Seuss described "How the Grinch Stole Christmas" as "the easiest book of my career to write."
🖍️ MORE HOW TO DRAW TUTORIALS…
Help Support Artists Big and Small
We would much appreciate it if everyone who enjoyed or benefited from our how-to-draw tutorial series can give us a social media shout-out or a link back. This will allow us to create more content by 1) commissioning small, independent artists and 2) teach young children everywhere to create more through art. Thank you.