There is nothing more beautiful in my life than my little girl's smile. Luckily she's just about the happiest little toddler on the block so we see that cute smile often. Wouldn't life be awfully sad without a simple gesture of smiling? We have to know how to draw a smile – more than just a basic yellow smiley face emoji! Let's level up this core part of human connection and communication with this super easy, simple tutorial of how to draw a little girl smiling. Perfect for little ones to learn step by step to learn how to draw a smile.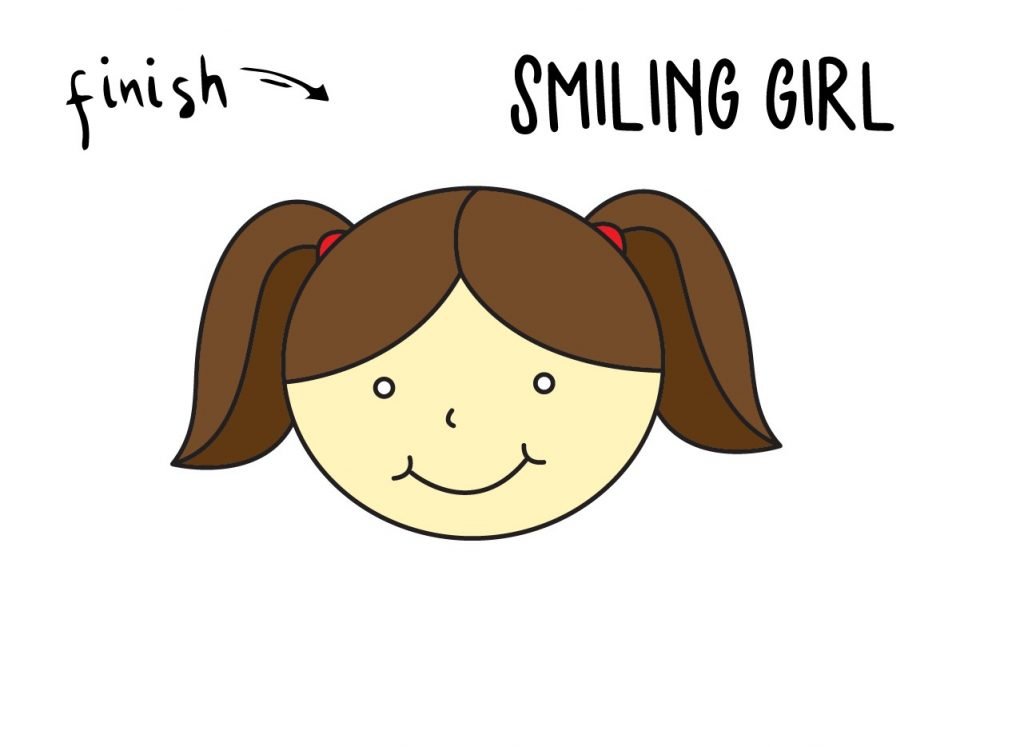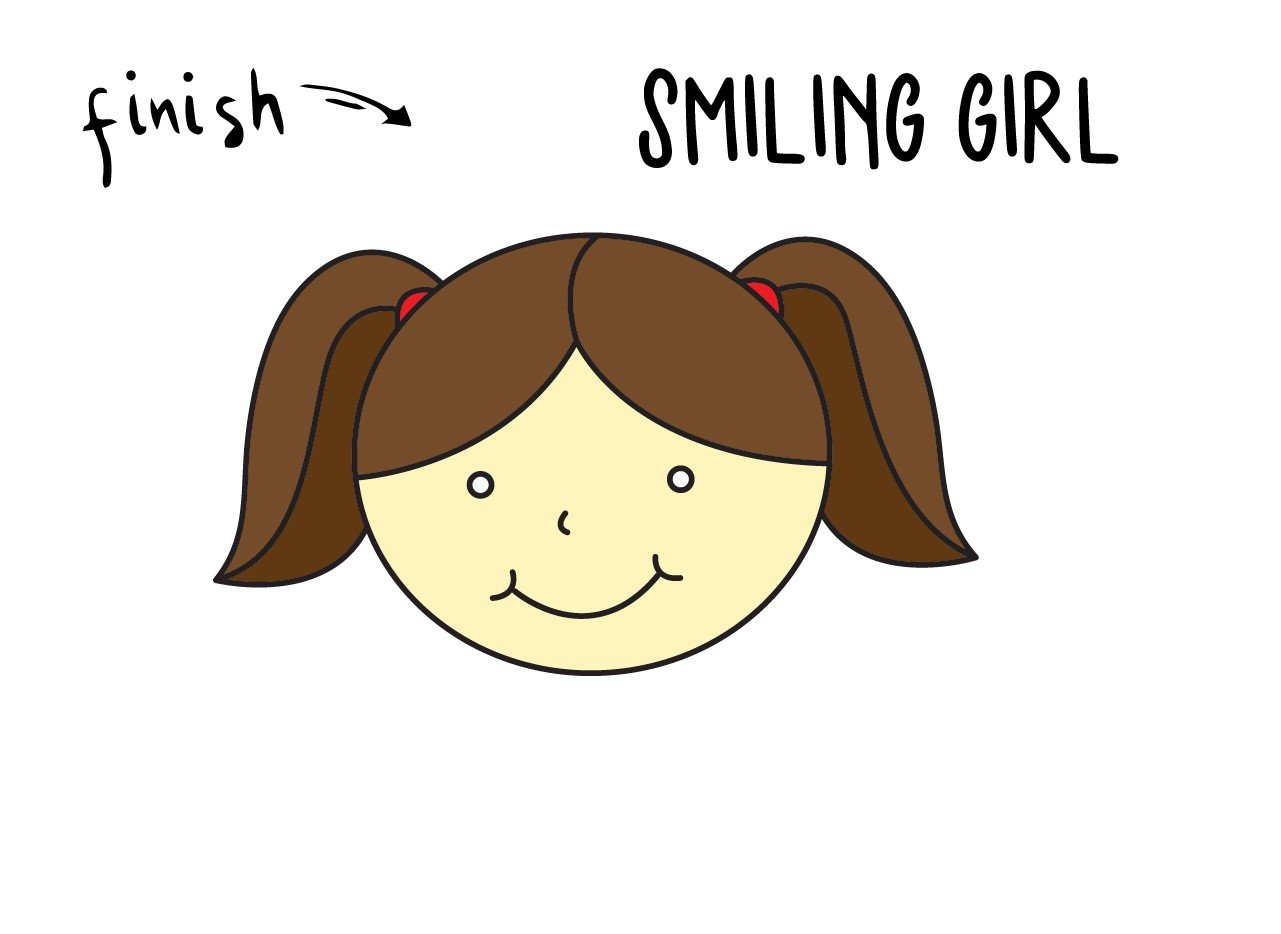 This tutorial and our many others are suitable for ages 3 to 8 (preschool and above.)
And why not check out our collection of free coloring pages for kids! We update our resources library regularly so feel free to check back as we add more and more content. We're currently at over 1000+ coloring pages and tons more how-to-draw tutorials!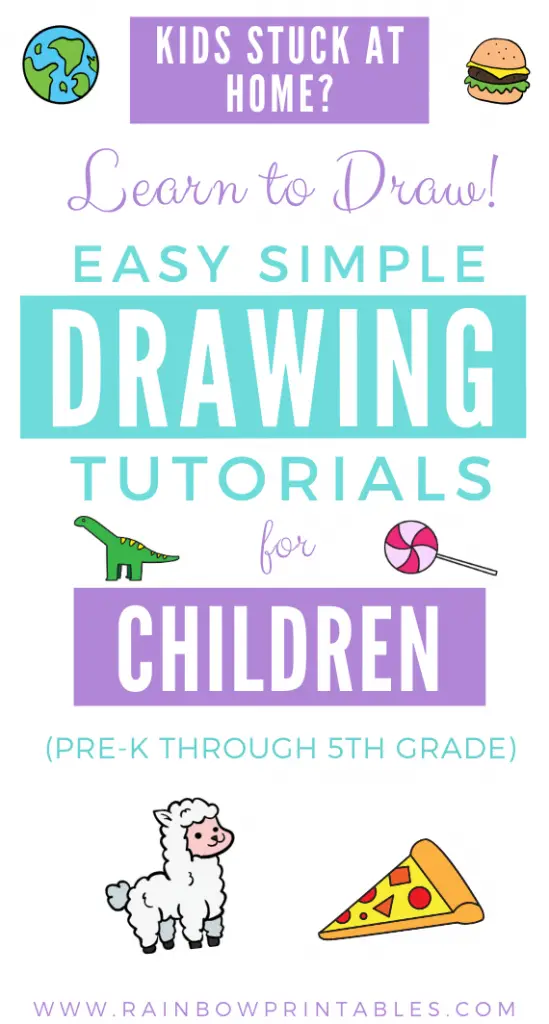 ✏️ TOOLS FOR SUCCESS
How-To-Draw Template – International (A4) or U.S. Size (8.5×11 in)
Sketching Pencil
Polymer Eraser
Outline Marker
Coloring Tools
🎨 Parents: The only tools you need for these how-to-draw tutorials are: eraser, pencil, and a piece of paper. But – if you have them around – a sketching pencil makes for fainter and softer lines that help kids build fine motor accuracy. I also recommend going over the sketch pencil with a black outline marker when you're done for a neater finish. Lastly, erase the pencil marks before adding color.
Step-by-Step Drawing On How To Draw a Smiling Girl 
Girls are really adorable, especially when they're smiling! So, let's draw a smiling girl.
Start drawing a big round face with a vertical hairline curving its way on the two opposite sides. The hairline should only occupy the upper half of the face. 
Next, on each side of the face, draw a wavy set of hairs in ponytails. The upper end of the hair should be curved, while it should have pointy ends below.  
Then, trace the hair's pointy ends with a slightly curved vertical line on each side, directing the head with a small curved ponytail on top. 
Finally, let's draw two small round eyes parallel to each other, a little curved nose in the middle of the face and long curved smiling lips with a slight curve on each end. 
Let's have this smiling girl with fair skin, dark brown hair, and red ribboned ponytails just like my daughter. You are 1000% encourage to make this little girl your way!
Printing & Saving Info:
The instant print button is in the upper left-hand corner. If you don't see the instant print icon on mobile, toggle your mobile browser to "Desktop View" and you should be able to see it. Turning on "Desktop View" is on the upper right of your browser screen under "Settings."
To decrease load time we put large images on different sub-pages. Use the navigation on the top and bottom of the galleries to toggle.
Fits both A4 sizes and fits US standard letter sizes but preview your specs just in case.
Want to save a file for later? Just hit the print button and choose instead of printing, select Save As "PDF" in the drop-down selection, and done! (Your screen and selection might look a little different.)
Happy Trivia Facts About Smiling
Smiling is the first facial gesture we get.
Babies are born capable of smiling.
99.7% of people believe an attractive smile is a major personal asset.
Smiling makes you more desirable. When you're down, forcing yourself to smile will help increase your mood.
The fundamental symbol of pleasure is a smile.
You know that you can trick yourself into being in a better mood simply by smiling. Try it! It's hard to get down when you have a genuine smile on.
Smiling allows you to relax and improves the immune system. It reduces blood pressure, releases endorphins, and relieves tension.
When people fake a false smile subconsciously, they do not feel the same brain function as an authentic one. This mismatch lets them know that there's something wrong.
There are 50% chances of people smiling back if you smile at them.
A Smile is a painkiller that can boost your mood. A smiling face makes you seem more trustworthy.
Although babies learn most of their behavior by watching the adults around them, all babies, including babies born blind, are born with the ability to smile.
🖍️ MORE HOW TO DRAW TUTORIALS…
Help Support Artists Big and Small
We would much appreciate it if everyone who enjoyed or benefited from our how-to-draw tutorial series can give us a social media shout-out or a link back. This will allow us to create more content by 1) commissioning small, independent artists and 2) teach young children everywhere to create more through art. Thank you.