Imagine all the brave, dedicated men and women serving 24/7 at our local fire station had to get up at any time and be on call on a big, cool-looking firetruck. A firetruck is designed to transport firefighters and all the tools they need to save lives every day! It's very important to job and it will be important here today as we will be learning to draw a shiny red firetruck. Let's art!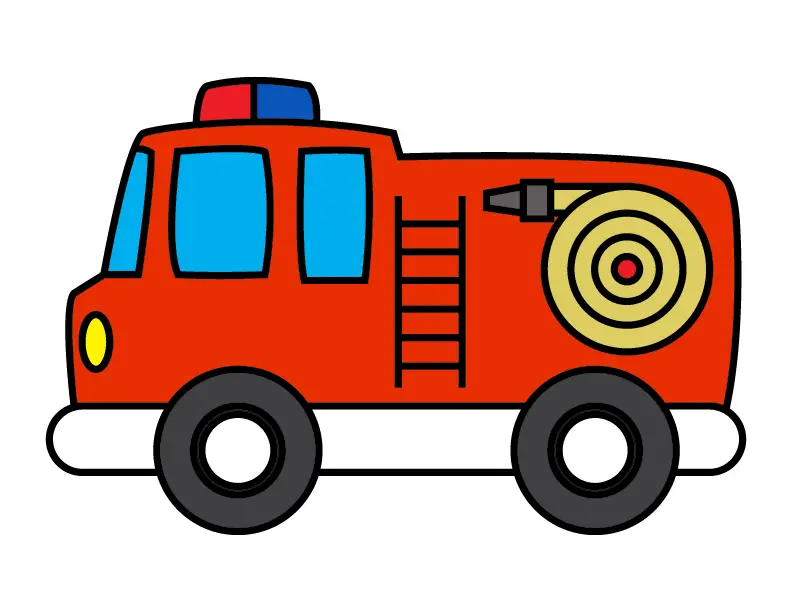 And why not check out our collection of free coloring pages for kids! We update our resources library regularly so feel free to check back as we add more and more content. We're currently at over 1000+ coloring pages and creating more how-to-draw stuff art tutorials!
Note: This tutorial and our many others are suitable for ages 3 to 10 (preschool and above.)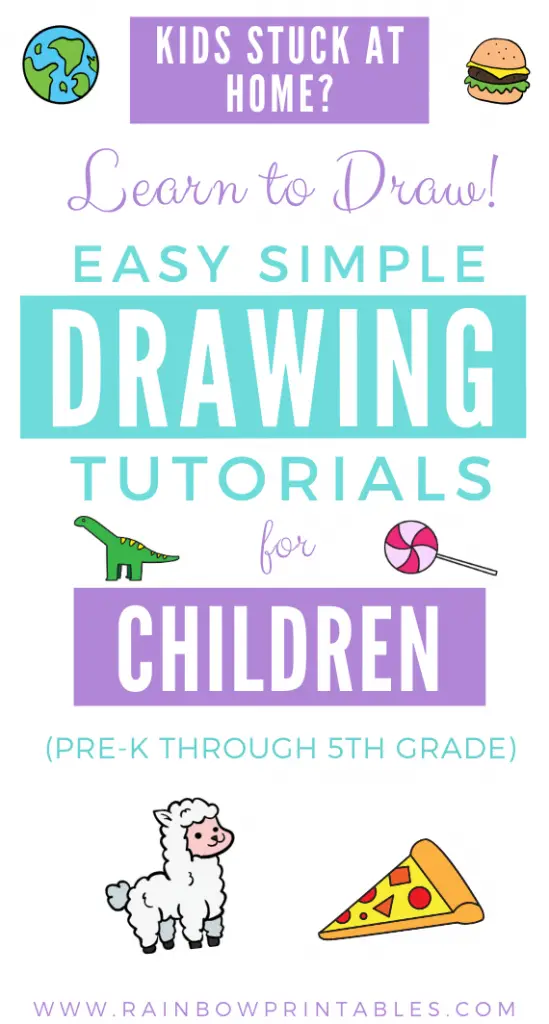 🖍️ Tools For Success
🎨 Parents: The only tools you need to use these how-to-draw tutorials are: an eraser, a pencil, and a piece of paper. But – if you have them around – a sketching pencil makes for fainter and softer lines that help kids build fine motor accuracy. I also recommend going over the sketch pencil with a black outline marker when you're done for a neater finish. Lastly, erase the pencil marks before adding color.
Easy Firetruck Cartoon Doodle for Children (Step by Step)
~
🔖 See our collection of How-To-Draw tutorial instructions for young kids! Check out our collection of free coloring pages for kids while you're here too. We're a group of independent illustrators that create coloring pages, how to draw tutorials, craft printables, and educational worksheets for kids. We update our resource library regularly so feel free to check back as we add more and more content. We're currently at over 1000+ coloring pages and 500+ how-to-draw stuff guides for kids!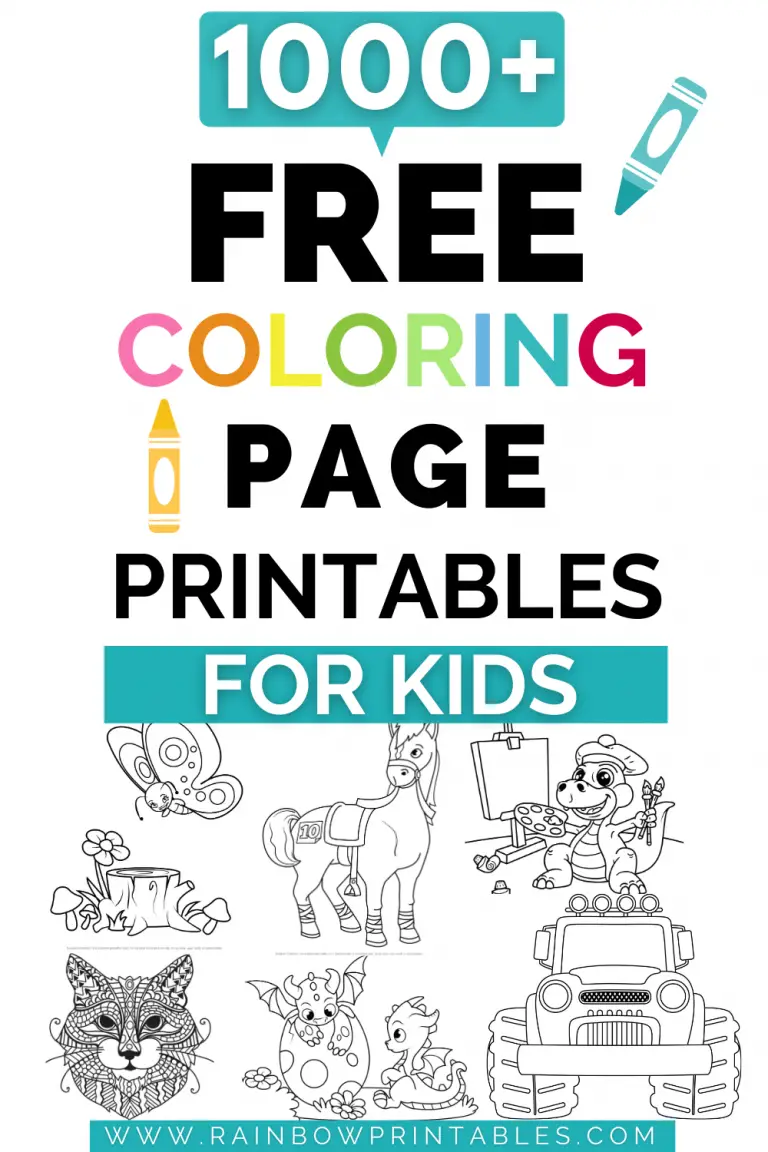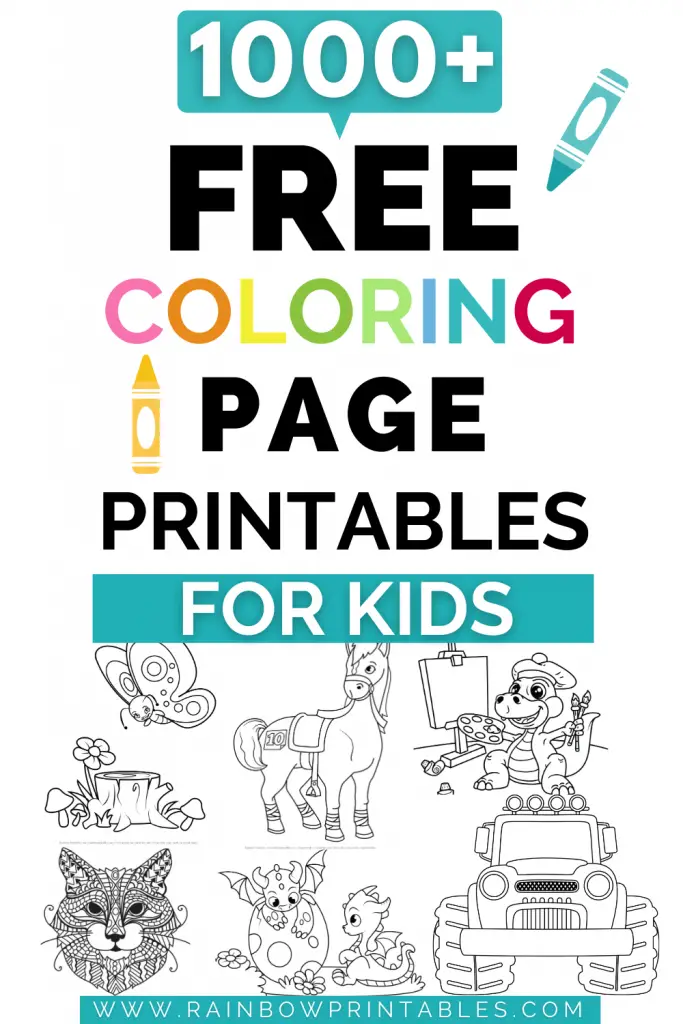 ~
🖍️ Tools For Success
Paper (Empty How To Draw Template PDF)
Pencil
Polymer Eraser
Coloring Tools (I recommend Crayola's 140 Piece Coloring Case)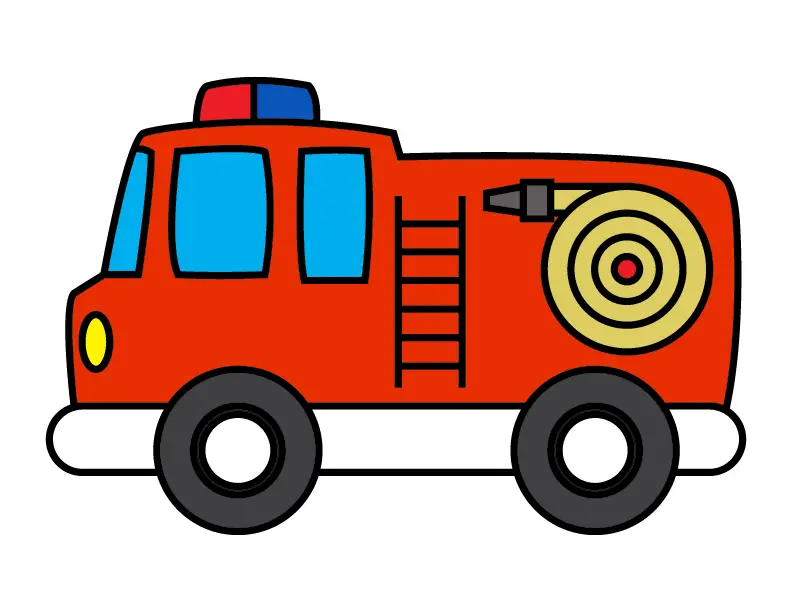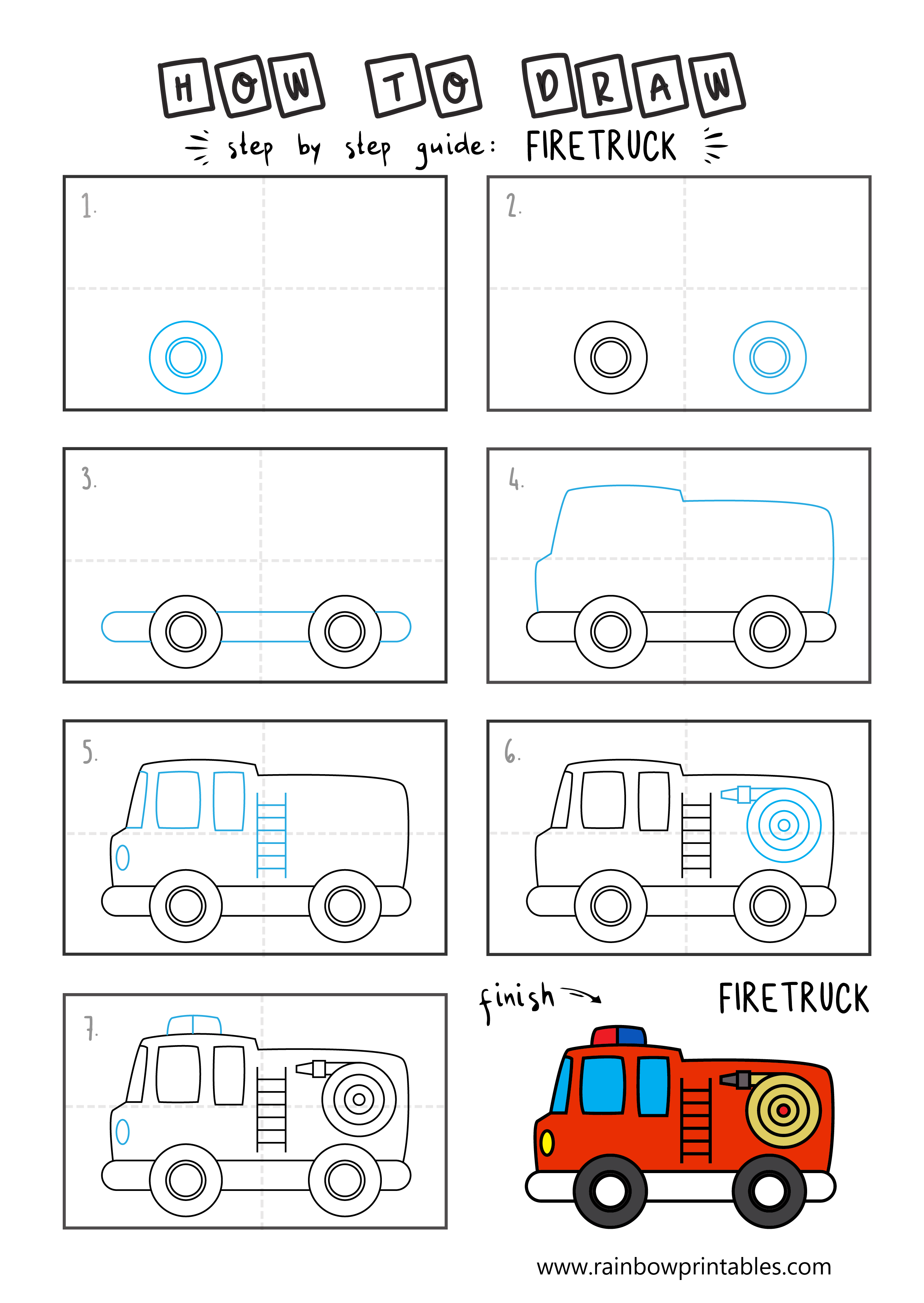 Step-by-Step Guide on How To Draw A Firetruck 
Draw a big circular tire with two small circular interiors inside it that are parallel to each other on the left side of your paper. 
Repeat step one on the right side to complete the pair of tires parallel to each other.
Connect the tires with long parallel horizontal lines between them, and enclose the lines with curves on each side of the tire, forming an oval-shaped base. 
Above the base, draw an irregular and enclosed body shape – a more forward lower front than the upper front and a higher body top on the left side than on the right. 
Draw two rectangular windows of different sizes on the left side of the truck and a c-shaped glass shield in front of the firetruck, a ladder with six horizontal steps in the middle, a headlight below the glass shield. 
Let's add four circular folds of water hose parallel to each other beside the ladder. On the top left side of the hose, draw two horizontal lines parallel to each other – one long on top and a shorter one below it. Then, connect a vertically-placed rectangle, enclosing the hose with triangular but flat ends. 
On top of the firetruck, draw a rectangular siren light with a short vertical line in the middle, dividing it into two. 
For the final touch, make a colorful firetruck – gray tires with black interiors, orange firetruck body, blue windows, black ladder, yellow headlight, red and blue siren, pale yellow hose with gray end and a red on the center, and a white base connecting the tires.
🖍️ MORE HOW TO DRAW TUTORIALS:
Help Support Artists Big and Small
We would much appreciate it if everyone who enjoyed or benefited from our how-to-draw tutorial series can give us a social media shout-out or a link back. This will allow us to create more content by 1) commissioning small, independent artists and 2) teach young children everywhere to create more through art. Thank you.