Bloop, bloop, bloop…would you like to learn how to draw a fish? Fishes come in all shapes, sizes, colors but here's the most popular fish we all know, a classic "Dorothy" (yesss, Elmo fans will know who this cute little Goldish is!) So let's draw an easy, peasy goldfish with shiny fins, a waggly tail, and a cute rounded body.
Next time we'll update with more fish tutorials (including the other super popular fish…BETTAS!)
And why not check out our collection of free coloring pages for kids! We update our resources library regularly so feel free to check back as we add more and more content. We're currently at over 1000+ coloring pages and creating more how-to-draw stuff art tutorials!
Note: This tutorial and our many others are suitable for ages 3 to 10 (preschool and above.)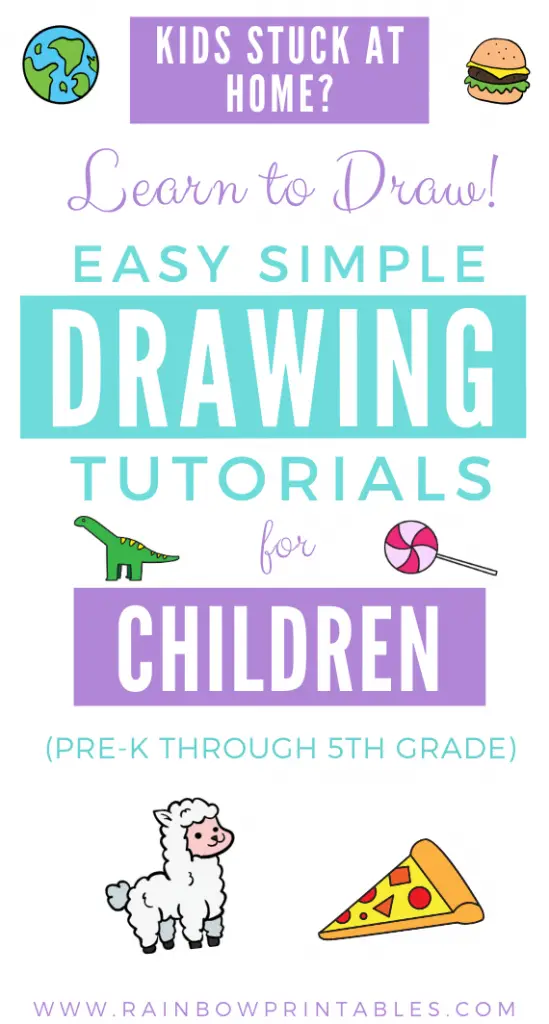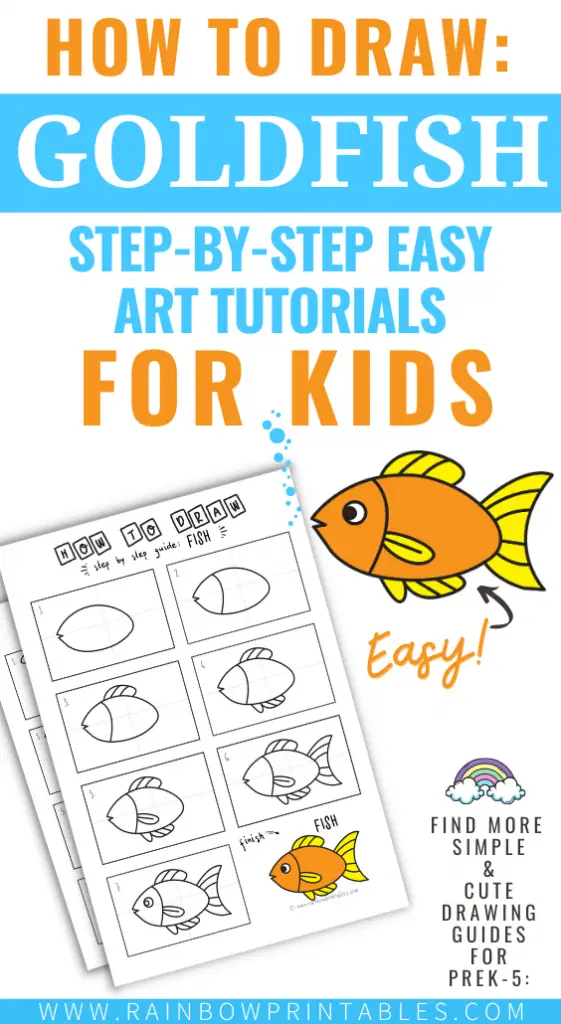 🖍️ Tools For Success
🎨 Parents: The only tools you need to use these how-to-draw tutorials are: an eraser, a pencil, and a piece of paper. But – if you have them around – a sketching pencil makes for fainter and softer lines that help kids build fine motor accuracy. I also recommend going over the sketch pencil with a black outline marker when you're done for a neater finish. Lastly, erase the pencil marks before adding color.
HOW TO DRAW A CUTE FISH (STEP BY STEP)
There are limitless options to drawing fish so we're starting with a basic fish. Many freshwater-type fish have scales, fins, tail, and a mouth of course. You can follow along with this tutorial loosely and add whatever you want to make your own fish unique!
~
🔖 See our collection of How-To-Draw tutorial instructions for young kids! Check out our collection of free coloring pages for kids while you're here too. We're a group of independent illustrators that create coloring pages, how to draw tutorials, craft printables, and educational worksheets for kids. We update our resource library regularly so feel free to check back as we add more and more content. We're currently at over 1000+ coloring pages and 500+ how-to-draw stuff guides for kids!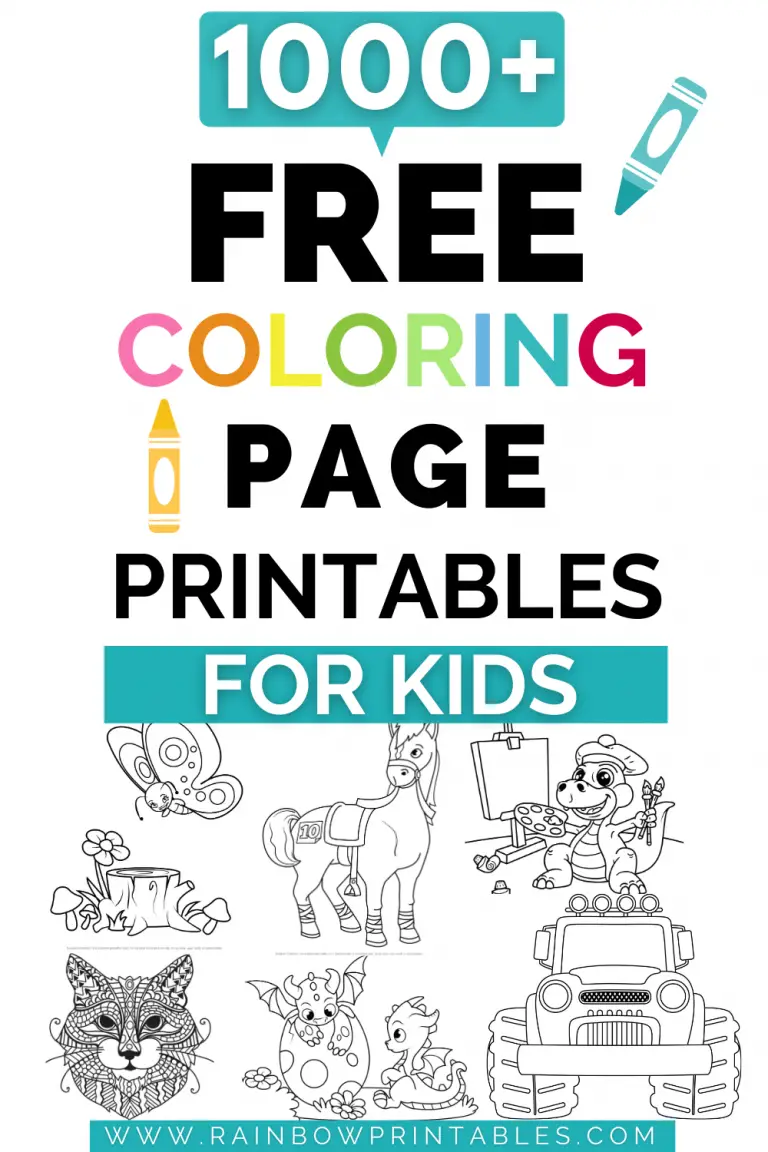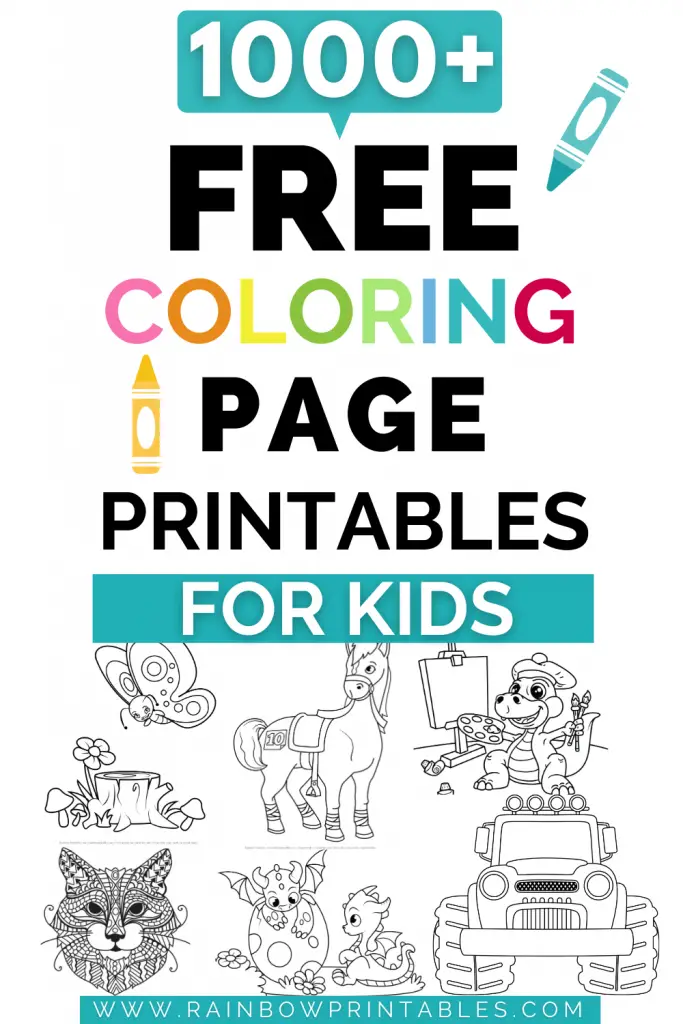 ~
🖍️ Tools For Success
Paper (Empty How To Draw Template PDF)
Pencil
Polymer Eraser
Coloring Tools (I recommend Crayola's 140 Piece Coloring Case)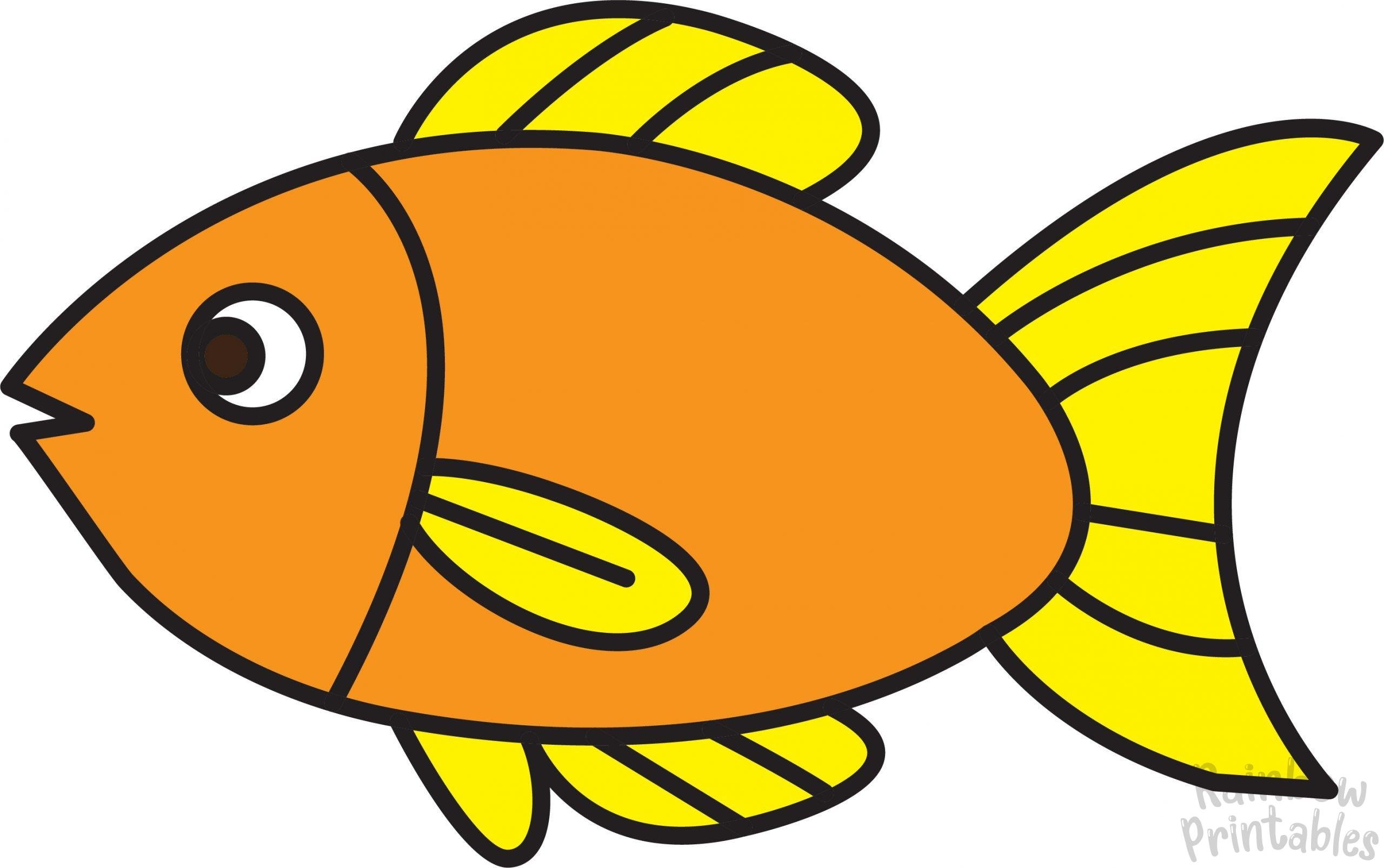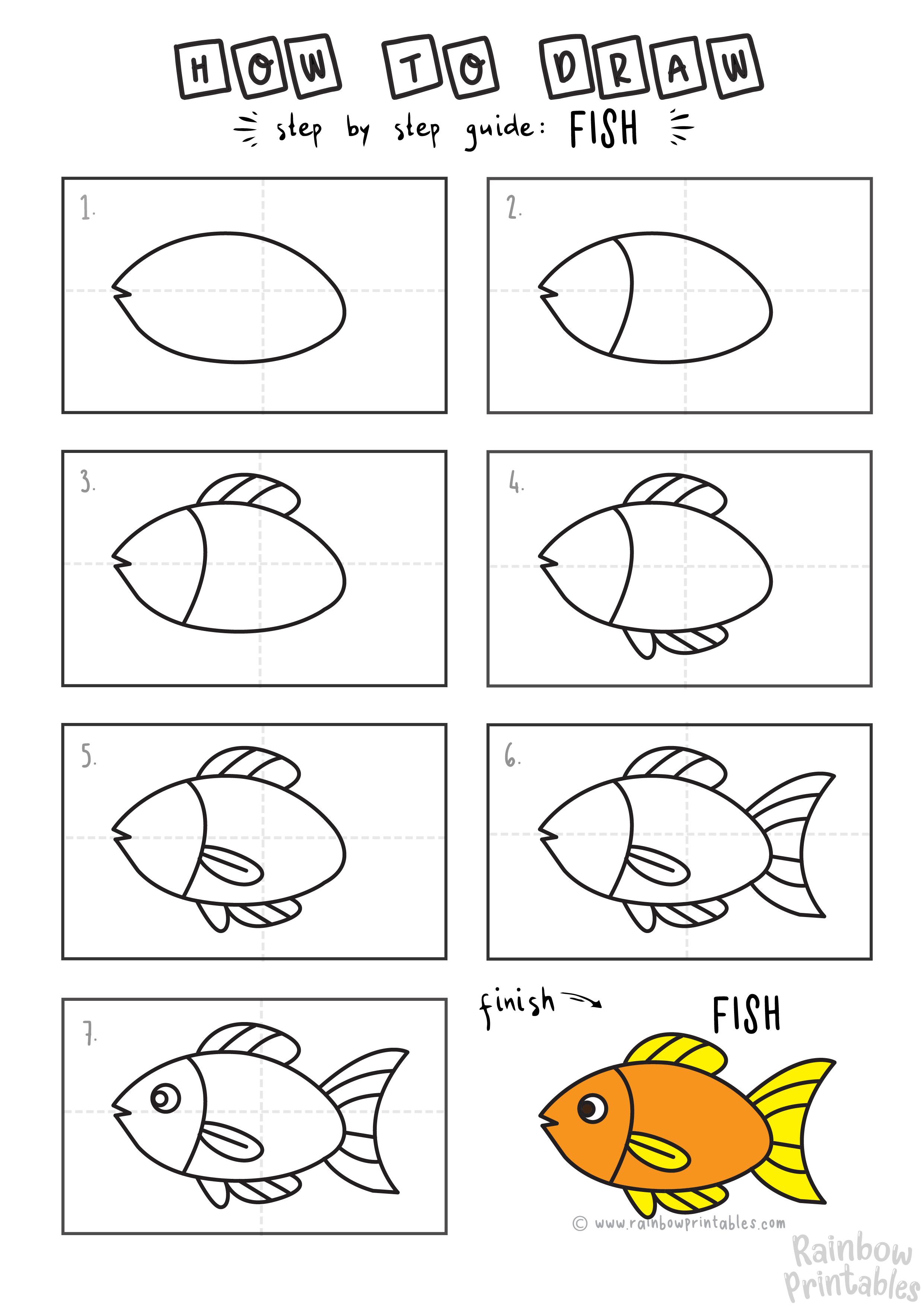 Start with an elongated oval that will become the body of the fish and leave a little divet on the left side that will become the mouth of our little fishie.

Use a slightly curved line to separate the fish head and body – this becomes the gills of the fish.

A fish can't be a fish without plenty of frilly fins. Draw the fin outlines like a rounded suitcase handle and line the inside with curved vertical lines.

Draw fins on top and on the bottom of its oval-shaped body.

Now add a mini-fin right in the middle of the gill line from step 2.

This fish is really taking shape! On the very opposite end of the fish, the opposite end of the mouth, draw a wide-sweeping crescent moon shape and line the inside as you did with the body fins.

We have the overall fish of a cute little goldish – time to give our fish sight! Going back to the fish head, slightly right above the mouth, draw a small circle and then a smaller circle within for pupils. Fill in the inner circle.

You can color this little fish any color you want, go wild! Fishes come in blue, white, red, black, yellow, neon, striped, glow-in-the-dark, x-ray (yes see-through fishes exist!)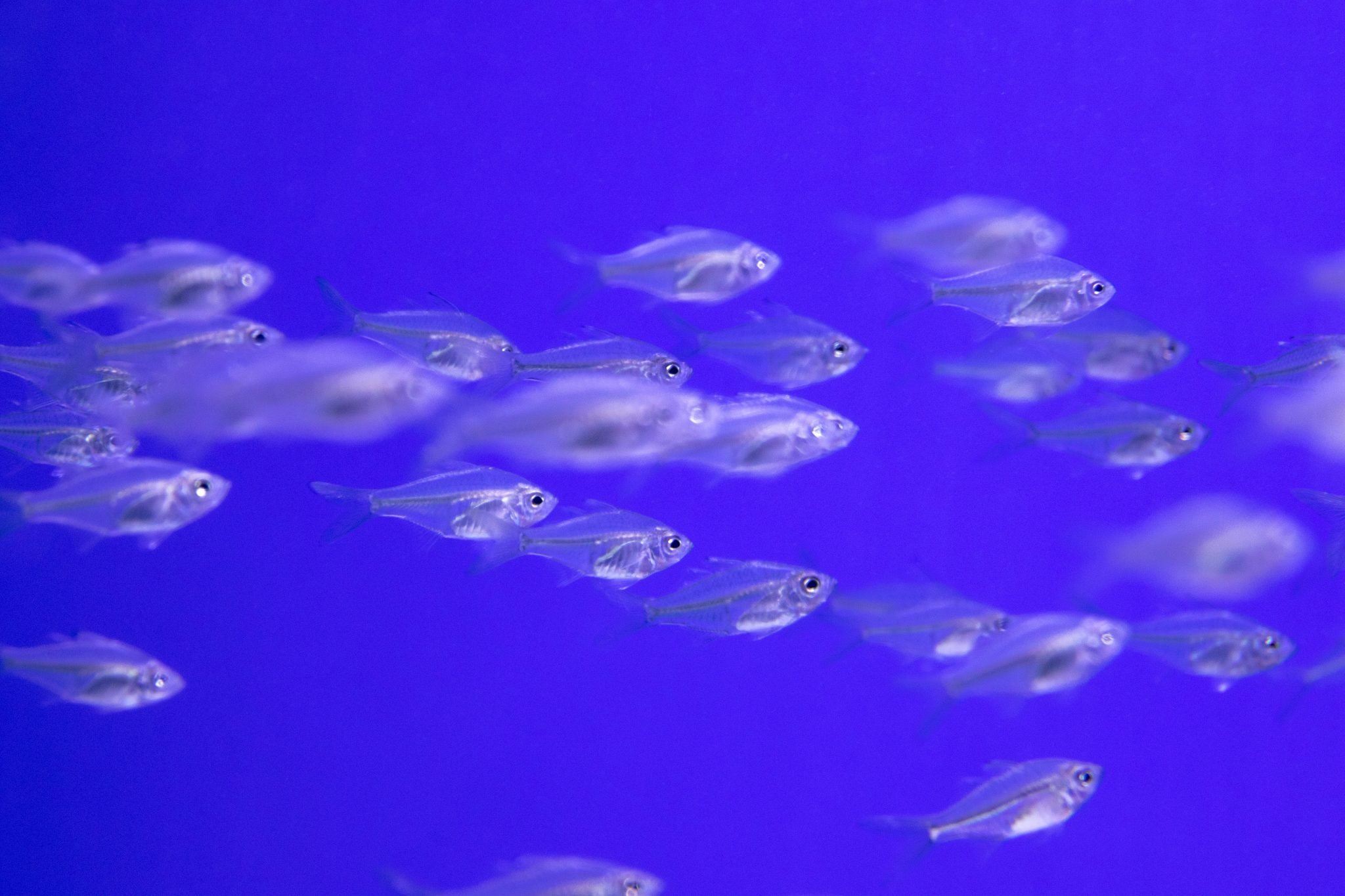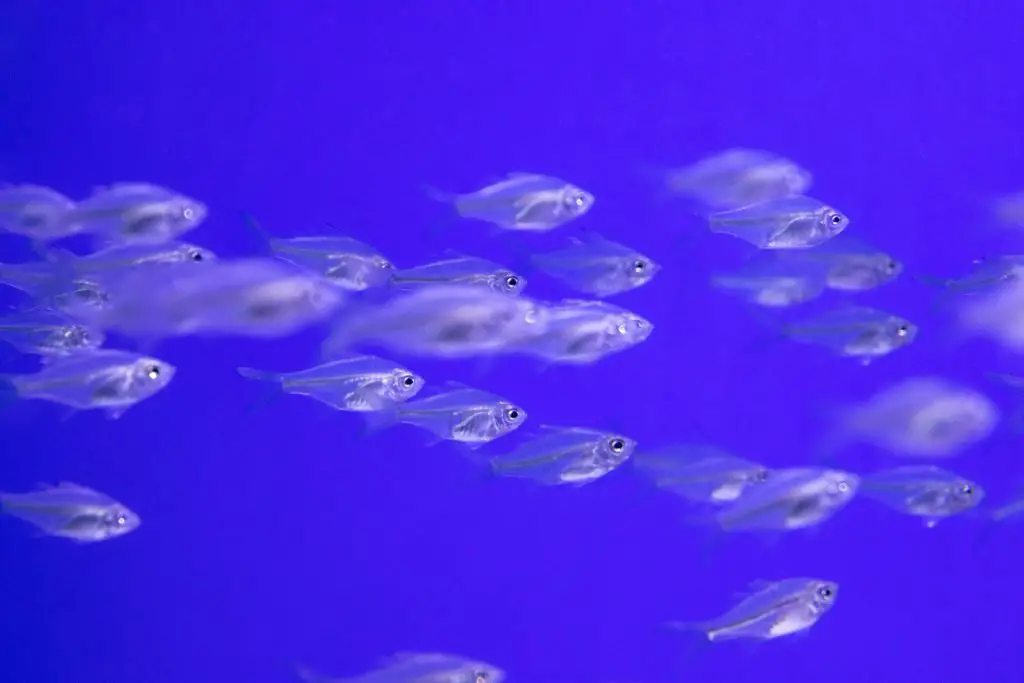 FISH FACTS FOR KIDS
Scientists have uncovered over 30,000+ known species of fish. Think about all the cool species we haven't uncovered yet!
Goldfishes can see more colors than humans! The fourth color is ultraviolent.
Fish scales are used for optimizing speed underwater. Scales come with a thin layer of slime that makes fish more agile while underwater.
In Ancient China, yellow-colored goldfish were considered a symbol of good fortune and luck. Yellow goldfishes were kept only by the loyalty of the Song dynasty. Orange-colored goldish was kept among commoners.
A goldfish's size can grow up to 18 inches and weighing up to ten pounds but their size really depends on the size of their tank and environment.
Did you know a group of goldfish is called "a troubling," instead of "a school?"
Believe it or not, fish can be sensitive to sound, loud noises from TV or loudspeaker can stress them out.
Fish can be found in all aquatic environments on Earth from the deepest ocean floors to high mountain springs to muddy ponds in your own backyard!
When fish are loosely swimming together, it's known as shoaling vs schooling means they're swimming in the same DIRECTION. Both shoaling and schooling help protect fishes from predators.
Anadromous fish like salmon are born in freshwater but move to saltwater to feed.
Beginner-friendly fish that are easy to care for: molly fish, platyfish, angelfish, guppies, and betta fish.
🖍️ MORE HOW TO DRAW TUTORIALS…
These How-To-Draw step-by-step tutorials can really help add a little diversity and create a starting point to get your kids drawing more than just unicorns, rainbow, houses, and butterflies. These 8 short step-by-steps are really simple and suitable for any kid age 3+.
They will learn to:
Expand upon their artistic repertoire.
Encourage fine motor skills.
Raise awareness in concepts otherwise eluded.
Demonstrate logical order of 3d objects to 2d shapes.
Build confidence in their skills as an artist.
Pioneer the revolution and end the terrible trope of just another "kid drawing."
Help Support Artists Big and Small
We would much appreciate it if everyone who enjoyed or benefited from our how-to-draw tutorial series can give us a social media shout-out or a link back. This will allow us to create more content by 1) commissioning small, independent artists and 2) teach young children everywhere to create more through art. Thank you.