Oooh, what's a more symbolic drink of a cozy day inside while it's snowy winter outside? The Christmas holiday evenings around the tree is never complete without a nice mug of Swiss-Miss! And a few marshmallows make it that much better! Hey, it's Christmas! Sugar + calories are meaningless. But if you rather draw a mug of hot chocolate for the sake of health than drink one, this hot chocolate drawing guide would be perfect! I mean we mostly created this tutorial because we wanted to show children how to draw a mug. It's good for kids to learn how to draw a cylindrical object in 2D that's easy to follow; it'll open up more things for them to draw. Plus I don't know what's a more popular beverage amongst young ones than warmed chocolate and melted marshmallows 🙂 Everyone loves hot chocolate, especially in cold weather, so let's start making one for you!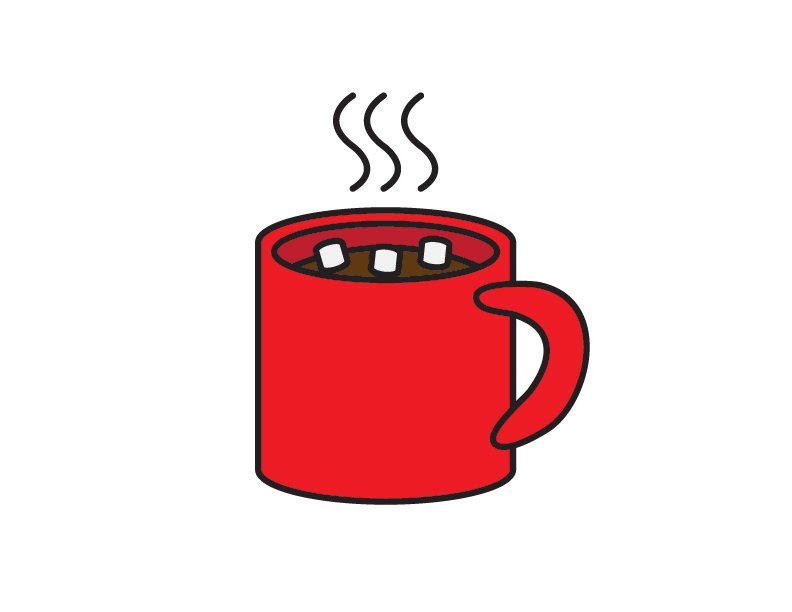 And why not check out our collection of free coloring pages for kids! We update our resources library regularly so feel free to check back as we add more and more content. We're currently at over 1000+ coloring pages and creating more how-to-draw stuff art tutorials!
Note: This tutorial and our many others are suitable for ages 3 to 10 (preschool and above.)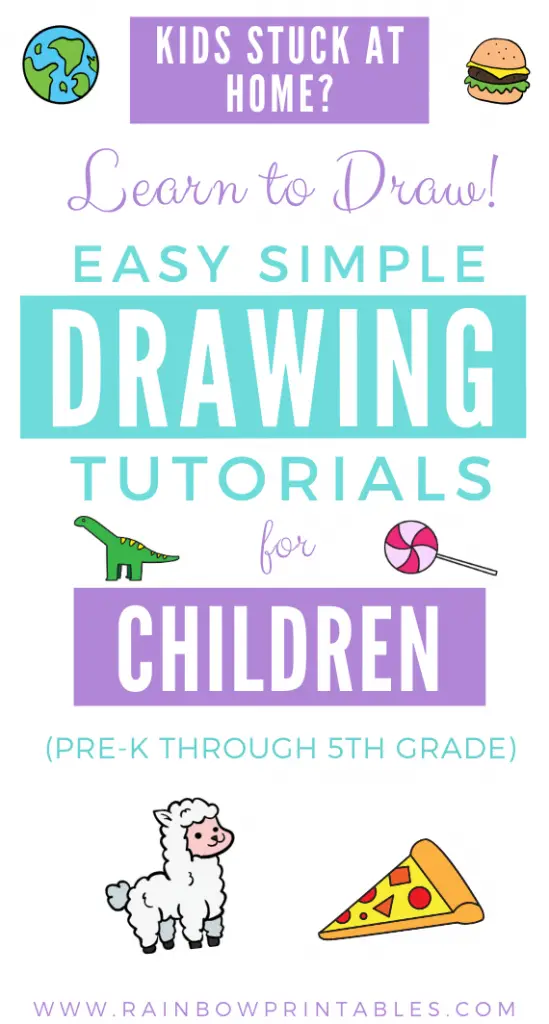 🖍️ Tools For Success
🎨 Parents: The only tools you need to use these how-to-draw tutorials are: an eraser, a pencil, and a piece of paper. But – if you have them around – a sketching pencil makes for fainter and softer lines that help kids build fine motor accuracy. I also recommend going over the sketch pencil with a black outline marker when you're done for a neater finish. Lastly, erase the pencil marks before adding color.
How to Draw a Hot Chocolate Mug (Version 1)
First, you have to draw an oval-spade mug's mouth with a small space in the middle. In short, this mug-to-be will look like it's stretched sidewards. 
Next, draw an inverted enclosed c-curved line on the right side of the cup-to-be, leaving a short distance between them.
Then, on the top of the oval, draw a curved line parallel to it with minimal space between them. 
Do the same at the bottom of the mug-to-be but with a longer distance to the mug's mouth, depending on how big you would like to have your mug.
After that, connect the horizontal curves lines with vertical curves on each side to complete your mug's body. 
That's it! We just need to pour your hot chocolate (coloring it will help, more on that later!)
Inside the mug, draw three small circular marshmallows for the toppings with a curved line behind connecting them. That's the hot chocolate liquid line, marshmallows are light so they float.
Finally, to make it really hot, draw three short curves on top of the mug. 
Chocolates are very distinctive for their color. Let's hit it with brown, then your mug according to your favorite color. Although generally, they're white, no reason you can't add color to your marshmallow toppings too!
~
🔖 See our collection of How-To-Draw tutorial instructions for young kids! Check out our collection of free coloring pages for kids while you're here too. We're a group of independent illustrators that create coloring pages, how to draw tutorials, craft printables, and educational worksheets for kids. We update our resource library regularly so feel free to check back as we add more and more content. We're currently at over 1000+ coloring pages and 500+ how-to-draw stuff guides for kids!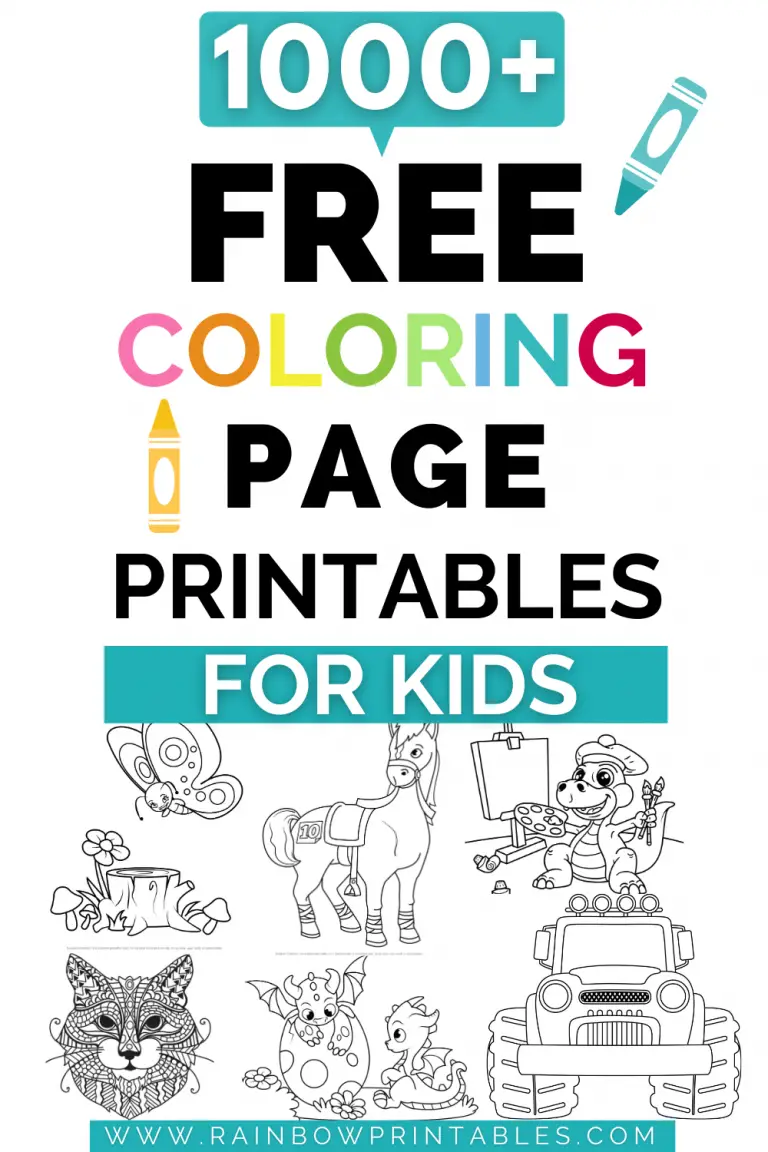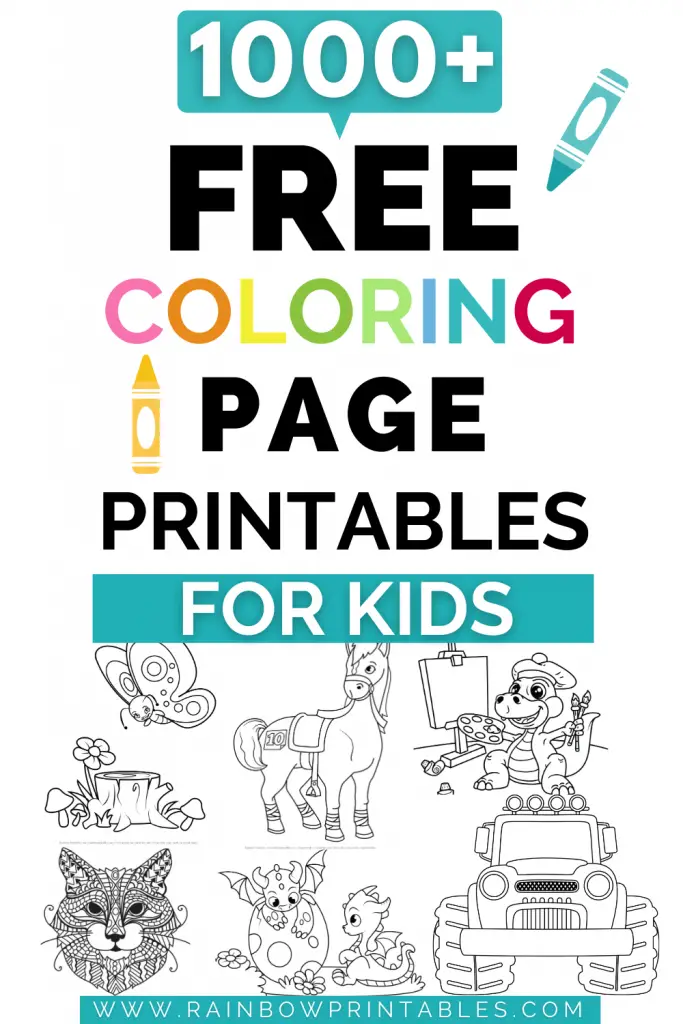 ~
🖍️ Tools For Success
Paper (Empty How To Draw Template PDF)
Pencil
Polymer Eraser
Coloring Tools (I recommend Crayola's 140 Piece Coloring Case)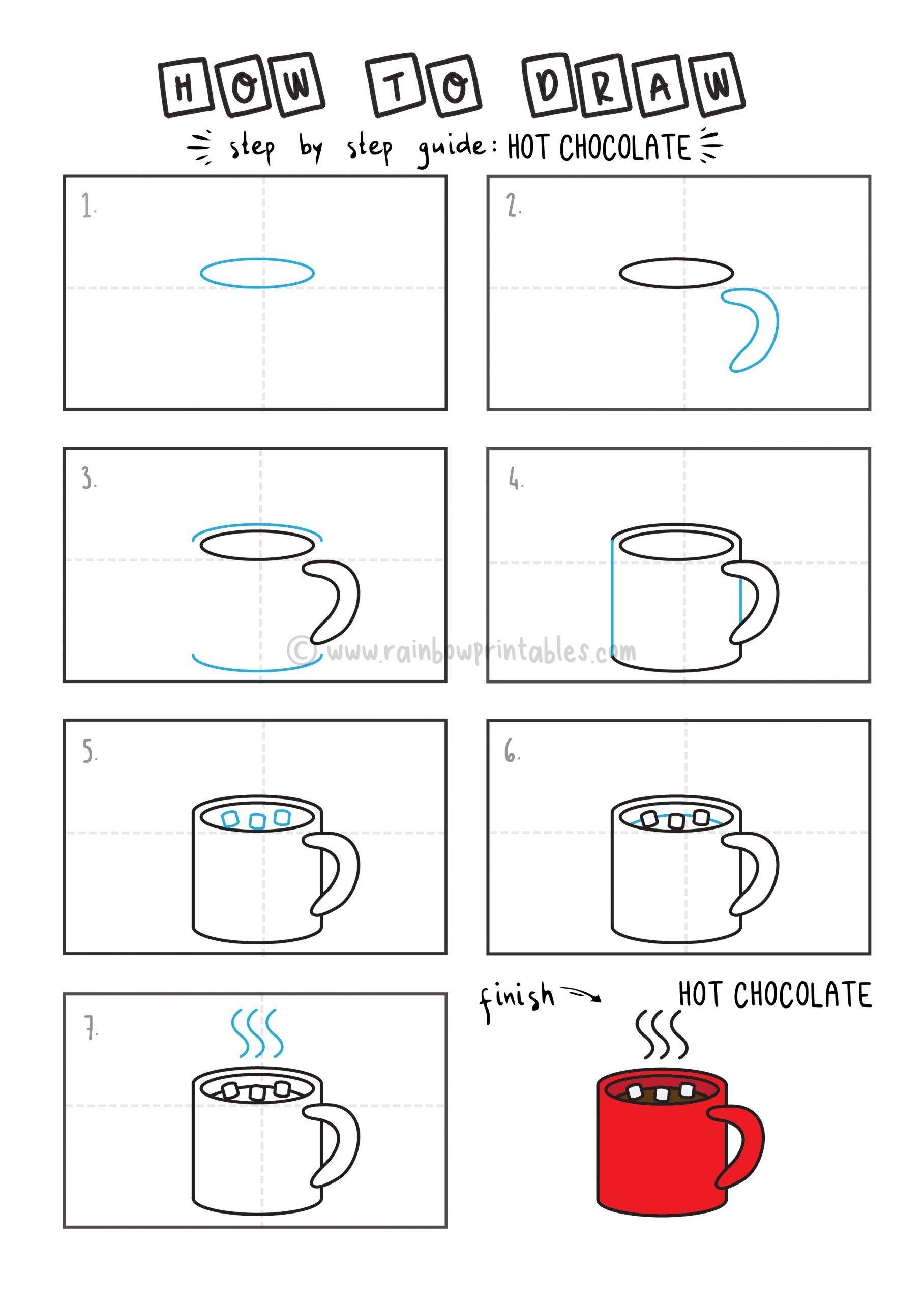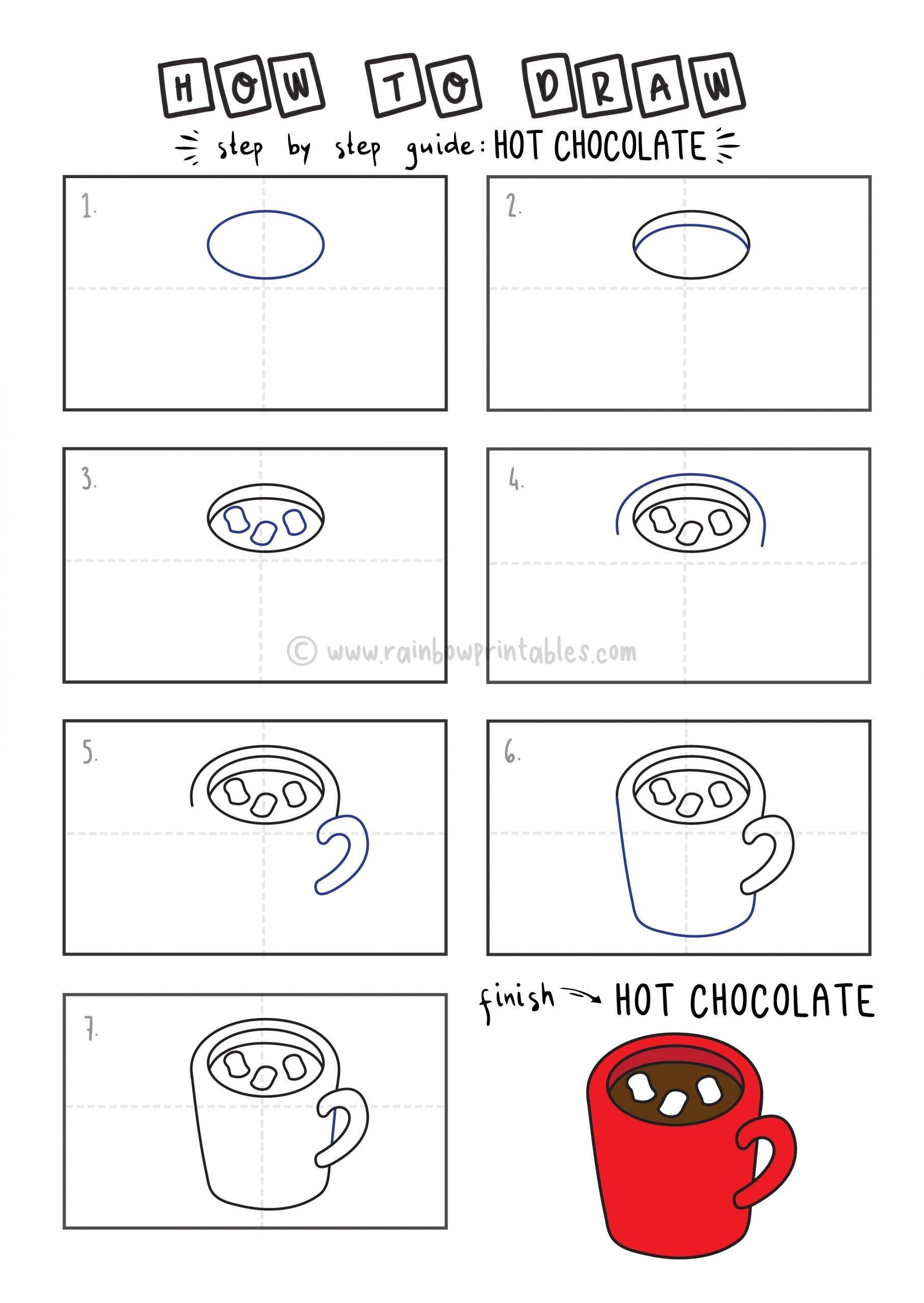 Printing & Saving Instructions:
Desktop & laptop users: the instant print button is in the upper left-hand corner.
Mobile users: if you don't see the instant print icon on mobile for whatever reason, toggle your mobile browser to "Desktop View" and you should be able to see it. You can find that in your web browser's menu. Or find the nearest computer to print.
Change the page orientation from horizontal or vertical depending on what fits best.
To decrease load time we put images on different sub-pages. Use the navigation on the top and bottom of the galleries to toggle.
Designed to fit both A4 size & U.S. standard letter size but preview your specs just in case.
Want to save a file for later? Just hit the instant print button and choose instead to print, select Save As "PDF" in the drop-down selection, and done! (Your screen and selection might look a little different.)
Interesting Hot Chocolate Facts
Hot chocolate was also used by physicians as a medicine against certain ailments until the 1800s.
Hot chocolate in America is quite thin and mostly made by mixing hot water with powder bags, but in restaurants and cafes, you can find more authentic and gourmet variations.
National Hot Chocolate Day is January 31st.
Porcelana bar is the rarest chocolate in the world, they sell for over $90 per pound.
Dark, semi-sweet, or bittersweet chocolate can be made from Hot Chocolate, cut into small pieces, and mixed into milk with the addition of sugar.
Parrots and dogs cannot eat or drink any chocolate because it is poisonous to them.
Americans on average eat 100 pounds of chocolate every second. Can you blame us???
Most kinds of hot chocolate are very thick in Europe. This is because they are pure chocolate made from them.
Hot chocolate contains more antioxidants than wine and tea, which limits the risk of heart disease.
The Maya ground cocoa seeds into a paste and combined it with water, cornmeal, chili peppers, and other ingredients to create the chocolate drink, which was eaten cold.
The triangle shape of Toblerone chocolates are copyrighted and protected by copyright laws.
Although hot chocolate is no longer believed to be a 'health food', there are still definitive health benefits to chocolate including stress relief, lowers blood pressure, and anti-depressant.
Cornell University 2x as many cancer-fighting antioxidants in a cup of cocoa than a glass of red wine!
Dark chocolate can reduce the risk of heart disease.
In 1827, Coenraad J. Van Houten invented cocoa powder and it was mass-marketed to college students at an affordable price.
🖍️ MORE HOW TO DRAW TUTORIALS…
Help Support Artists Big and Small
We would much appreciate it if everyone who enjoyed or benefited from our how-to-draw tutorial series can give us a social media shout-out or a link back. This will allow us to create more content by 1) commissioning small, independent artists and 2) teach young children everywhere to create more through art. Thank you.